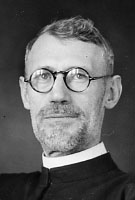 Father Henry A. Dirckx, MM
Born: July 28, 1898
Ordained: September 10, 1922
Died: November 6, 1984
While we are in the midst of our Eighth General Chapter, where new directions are being given for the future of the Society, it saddens me as one of my first duties to report to the Maryknoll Family that Father "Gus" Dirckx, who dedicated sixty-two years to the building up of the Maryknoll Society, died on the morning of November 6th at St. Teresa's. Father Dirckx attended the 1929 General Chapter.
On July 28, 1898, he was born to Emil and Mary Dirckx in Westphalia, Missouri. He attended parochial school as a young boy and then went on to Conception College, Conception, Mo, for his high school training. While there he thought about entering the priesthood. His first inclination was to enter the Divine Word Fathers, but since he wished to become a missionary, he entered Maryknoll in 1916.
After ordination in September, 1922, he was assigned to the Venard Faculty. Soon after he was elected to the General Council in 1925. In 1926 he became the Rector of Los Altos. From this time until 1939 he studied various courses and also taught at Maryknoll educational facilities. During this time he received a Master's Degree in Latin and Greek at Catholic University. In 1939 he was appointed Rector of the Venard until he was assigned to Talca, Chile in 1942. Four years later he was appointed Group Superior for all of Chile. Due to sickness in 1951 he went to Monrovia, California and in 1954 became the Spiritual Director at our Los Altos Minor Seminary. In 1975 he was assigned to the Special Society Unit and since then has lived at both our retirement residences at Los Altos and St. Teresa's.
Father Dirckx was a good well-balanced priest, with a liking for intellectual pursuits. He was a good teacher and a good companion to our young students. He was always very conscientious in his work, whether he was teaching or doing pastoral work in Chile. It was said of him while he was a professor at Los Altos that he had a wonderful influence on the priests, brothers and students.
The Wake Service was held on Thursday evening, Nov. 8th, with Fr. Gervis Coxen officiating and biography read by Fr. Thomas Brack. The Mass of Christian Burial was held the following morning at 8:30 A.M. Fr. Raymond Hill was Principal Concelebrant and final prayers at the grave site were given by Fr. William Boteler.
May we ask our Lord Jesus to give eternal rest to Father "Gus" Dirckx, who was a very warm, sympathetic and Charitable Maryknoll priest with an exemplary spiritual life.