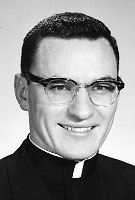 Father Henry F. Dilzer, MM
Born: April 26, 1934
Ordained: June 9, 1962
Died: June 23, 1968
Henry F. Dilzer was born on April 26, 1934 in the town of Butler, Pennsylvania. His parents were George Dilzer and Agnes Calahan. In 1952 he was graduated from West Catholic High School in Philadelphia. The following year he entered the Venard for special Latin courses. His first year of college was at Lakewood and in 1954 he went to Glen Ellyn.
He was ordained on June 9, 1962 and was assigned to Guatemala where he remained for the rest of his life. Reports from his superiors indicate that he was a very zealous worker, especially interested in youth and a very good organizer.
On June 22nd of 1968 Father Dilzer fell ill and on the following day he passed away while still in the hospital.
Father Dilzer was buried on June 24 in Guatemala City. A concelebrated Mass took place at Maryknoll for the repose of his soul.