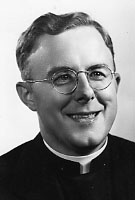 Father Henry J. Felsecker, MM
Born: October 6, 1905
Ordained: February 1, 1931
Died: November 18, 2000
Father Henry Joseph Felsecker died peacefully on Saturday, November 18, 2000. He was 95 years of age and a Maryknoll priest for 69 years.
Henry Felsecker and his twin brother, Gerald, were born on October 6, 1905 in Milwaukee, Wisconsin. They were the youngest of eight children of Joseph J. and Cecilia Lutfring Felsecker. Henry's early education was at St. Joseph's and St. Michael's parochial schools and Marquette University High School. Having entertained the idea of becoming a priest from his earliest years, he entered St. Francis Seminary in Milwaukee. After completing his second year of theology at St. Francis, he transferred to Maryknoll Seminary, Ossining, New York, in September, 1928, where he completed his studies for the priesthood. He was ordained a priest on February 1, 1931 by Archbishop Samuel Stritch in Milwaukee where he had gone to be with his mother before she died on January 26th. He served as a deacon at her funeral Mass at which his brother, Father Bernard Felsecker, officiated at the funeral Mass.
Father Felsecker's first assignment was to the Maryknoll Mission in Fushun, Manchuria, with the instruction to spend a year in Japan to prepare for work among Japanese living in Manchuria. After eight months in Japan, he went to Dairen, Manchuria, where he spent a year and a half. Next, he was sent to Japan to assist the first contingent of Maryknoll priests and Brothers assigned to that country. After several months in Japan, he returned to Manchuria. In 1934, at the request of the Apostolic Delegate to Japan, he was assigned to the staff of the Apostolic Delegation in Tokyo. During his time at the Delegation, delicate negotiations took place concerning the possible acquisition by Maryknoll of a mission territory in Japan. In 1937, the Maryknoll Society was given a mission territory in the Kyoto and Shiga Prefectures and Father Felsecker left the Delegation in Tokyo to become pastor of the Maryknoll Mission in the city of Kyoto. Subsequently, he became pastor of the Maryknoll Mission in the city of Nara and remained there until his Home Leave in August 1940.
After his Home Leave, Father Felsecker was assigned to teach at Maryknoll Seminary, New York, where he also served as spiritual director for a number of seminarians. When World War II broke out in the Pacific in 1941, he was assigned to do pastoral work for a year among the Japanese internees at the Japanese Relocation Camp at Heart Mountain, near Powell, Wyoming. He was then assigned to Georgetown University in Washington, D.C., to teach a course in the Japanese language. Having completed that assignment, he was assigned to Maryknoll Development work in the Dubuque, Iowa Diocese.
Shortly after the end of World War II, Father Felsecker returned to Japan where he was named pastor of the Kyoto Cathedral parish and appointed as the Japan Representative of U.S. Catholic War Relief Services. During the ten years in those positions, he also served as the Maryknoll Society Superior in Japan. He met the Emperor of Japan on three occasions and received an imperial Decoration from the Japanese Government for his work. In the course of carrying out his relief work, he met General Douglas McArthur in the General's office on two occasions. For his last eleven years in Japan, he served as chaplain at the Notre Dame Women's College in Kyoto.
In March 1974, at the age of 68, he enrolled in the Special Society Unit and retired to the Maryknoll Residence, Los Altos, California, where he became active in various local pastoral works. Subsequently, in 1975, at the request of the Development Department Director, he took up residence and helped out in the Houston, Texas, Development House. In 1977 he returned to the Maryknoll Residence in Los Altos. After the October 1989 Loma Prieta earthquake the Maryknoll Los Altos Residence was severely damaged. Father Felsecker and a number of the Los Altos retirees were transferred to St. Teresa's Residence, Maryknoll, New York. After the Maryknoll Residence in Los Altos was repaired, Father Felsecker returned there in January 1991. Father Felsecker returned to St. Teresa's Residence in February 1997 after taking ill while attending the 50th Anniversary of Catholic Relief Services in Japan. He remained at St. Teresa's until the time of his death.
Father Felsecker had a varied and full life as a Maryknoll Missioner. He had a great appreciation for his Maryknoll Superiors and often expressed his understanding of the special burdens that those in authority carry. He was known as a jovial, carefree but serious person and a dedicated missioner in all his various apostolic activities.
Wake services were held on November 19, 2000 at 7:00 p.m. at St. Teresa's Residence and at 7:30 p.m. at Queen of Apostles Chapel at the Maryknoll Center where Father Arthur Dwyer officiated and Brother Richard Kiesel read the biography. Mass of Christian Burial was concelebrated at Queen of Apostles Chapel on November 20, 2000 at 11:00 a.m. Father John McAuley was principal celebrant and Father Francis Diffley homilist. Burial was held at the Society Cemetery at Maryknoll, NY and Father Michael Snyder conducted the graveside service.