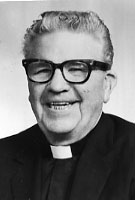 Father Henry J. Madigan, MM
Born: December 25, 1908
Ordained: June 16, 1937
Died: September 13, 1993
Father Henry J. Madigan died peacefully Monday, September 13 1993 at St. Teresa's Residence at Maryknoll Center in Ossining, New York. He was 84 years of age and a Maryknoll priest for 56 years.
Henry J. Madigan was born in Melrose, New York, December 25, 1908, son of Thomas and Elizabeth Rayher Madigan. He had five brothers and one sister. Henry attended St. Augustine Grade School and graduated from Catholic Central High School, both in Troy, New York. Henry entered Maryknoll Apostolic College (Venard), Clarks Summit, Pennsylvania, on September 25, 1928 and was ordained a priest at Maryknoll Seminary in Ossining, New York, on June 16, 1937.
Following ordination, Father Madigan was assigned to the Maryknoll Mission in Kaying, South China, where he served for 15 years. After a year of Hakka language and cultural studies in the Stanley House in Hong Kong, he was appointed assistant Pastor of the Parish in Tungshak, and in 1939 was appointed Pastor of the parish. After six years of his ministry there, the Superior General wrote of him: "This young priest has many superior qualities: good sense, balance, judgment, firm character, compassion, intelligence, zeal–he is a good missioner, pastor, linguist, self-sacrificing and responsible in all his work." These qualities served him well throughout his entire missionary life. During World War II he remained in his parish and was placed in charge of relief work among the people.
While on home leave in 1947 he was appointed Superior and Novice Master of the Maryknoll Novitiate in Bedford, Massachusetts. However, on September 13, 1947 he resigned as Novice Master and returned to Kaying. He was appointed Pastor of the Sek Hang Mission, where he built a new church and rectory. He liked the people and in turn was very much liked by the people. In April of 1949 the Chinese Communists took over South China and Father Madigan was searched, questioned and confined by the police to the mission compound. He was released from China and on his arrival in Hong Kong on October 27, 1951 in fairly good health, he was appointed assistant editor of the "China Missionary Bulletin."
He was recalled to the United States for medical reasons in June of 1952. He recovered quickly and was assigned to the St. Louis Promotion House for one year; followed by another year at the Chicago Promotion House. He liked Promotion work and was a good Promotor, working especially in Catholic schools seeking vocations. On January 19, 1955 Father Madigan was assigned to the Maryknoll Mission in Taiwan. Upon his arrival in Taiwan he was immediately appointed Pastor of the Holy Rosary Parish in North Miaoli, because of his excellent command of the Hakka language spoken there by the people. Besides the parish work, he also served as the Chairman of the Miaoli Deanery's Catholic Relief Services. His personal interest in and contact with his Catholics led him to gain the most conversions in his parish annually. His Superior wrote that Father Madigan "was a tremendous worker, considerate of the people and very kind to the…one of the best missioners in the Deanery, who knows his parish and people very well and constantly devising new means to give his Catholics better service. He is a missioner with good ideas and not afraid to put them into execution." He also developed a low cost housing project that produced 35 housing units for the poor in 1966 and eventually as many as 173 units in two villages. In 1969 he was transferred as Pastor to the Parish in Tou Wu. For many years he served as 1st Consultor to the Group Superior in Taiwan, and also as Alternate Consultor to the Regional Superior in Taiwan.
On May 14, 1979 at age 71 he was enrolled in the Special Society Unit with continued residence and work in Taiwan. He continued as pastor of his parish which also had a kindergarten and Home for the Handicapped, and the Motherhouse of a Taiwanese Community of Sisters. He served as Chaplain for the Sisters and the Home. Due to failing health he returned to St. Teresa's Residence at Maryknoll Center in Ossining, New York on Monday, August 6, 1990.
Wake services held at St. Teresa's Residence Chapel, Wednesday evening at 7:00 p.m. and in Maryknoll's Queen of Apostles Chapel at 7:30 p.m. Concelebrated Mass of Christian Burial offered in Queen of Apostles Chapel at 11:30 a.m. on Thursday, September 16, 1993, with Principal Celebrant: Fr. John J. Milielico; and Homilist: Fr. Elmer P. Wurth. Interment in the Maryknoll Center Cemetery.