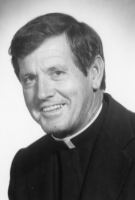 Father Henry J. Murphy, MM
Born: June 21, 1926 Ordained: June 14, 1958 Died: February 12, 2005
Father Henry J. Murphy died on February 12, 2005 at St. Teresa's Residence, Maryknoll, NY. He was 78 years old and a Maryknoll priest for 46 years.
Henry Joseph Murphy was born on June 21, 1926 in Milwaukee, Wisconsin, son of James and Mae Zens Murphy. He had two sisters, Marie and Christine. Father Murphy attended St. Patrick's grammar school in Janesville, Wisconsin. and graduated from Rufus King High School in Milwaukee. He served one year in the Merchant Marine during World War II, and three years in the Army as a General Clerk with the medical detachment in Yokohama, Japan. Upon discharge from the military, he attended St. Thomas College in St. Paul, Minnesota, and entered Maryknoll on September 23, 1950. In 1953 he received a Bachelor of Arts degree in Philosophy from Maryknoll College, Glen Ellyn, Illinois, and in 1958 a Masters degree in Religious Education from Maryknoll Seminary, New York. Father Murphy was ordained on June 14, 1958.
Father Murphy's first assignment was to the mission region of Guatemala. After language study he was assigned as assistant pastor in a parish in Jacaltenango. In 1961 he was transferred to Soloma, where he worked briefly as parochial assistant. Later that year he was again transferred, this time to Guadalupe Parish in Guatemala City as assistant pastor. Here his talent with the young people enabled him to organize football and bicycle teams within the parish.
Father Murphy returned to the United States in 1964, and was assigned to do development work in Houston, Texas. In 1973 he assumed the position of Director of the San Francisco Development House. In 1977 he was reassigned to the Central American Region where he served in mission for ten more years.
When Father Murphy returned to the U.S. Region in June 1987, he continued to do development work in Los Angeles and in 1996 went to the Jacksonville, Florida development house. Father Murphy formally retired on January 1, 1998, but continued to be active in development work in Jacksonville, Florida until November 1, 2001, when he joined the retirement community.
Wake services were held at 4:30 p.m. on February 17, 2005 at St. Teresa's, with Father Paul Belliveau officiating, and at 7:30 p.m. in Queen of Apostles Chapel at Maryknoll Center where Father Robert Reiley officiated and Father Gerald Nagle read the biography. Mass of Christian Burial was concelebrated in Queen of Apostles Chapel on February 18, 2005 at 11:00 a.m. Father Wayman Deasy was Principal Celebrant and homilist. Burial followed in Maryknoll Society Cemetery with Father John Barth conducting the graveside service.
Each Maryknoll priest is requested to offer Mass for the repose of the soul of Father Murphy; all Maryknollers are requested to remember him in their private and public prayers.