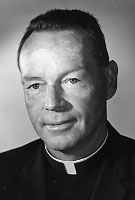 Father Herbert V. Elliott, MM
Born: April 28, 1912
Ordained: June 11, 1939
Died: November 9, 1987
Father Herbert Vincent Elliott died at Phelps Memorial Hospital on November 9, 1987. He was 75 years of age.
Herbert was born on April 29, 1912 in Astoria, L.I., to William and Honora Carroll Elliott. He had three brothers and four sisters. He attended Astoria public grammar school for five years and then Our Lady of Mt. Carmel parochial school until he entered the Venard in September, 1926. He said he was attracted to Maryknoll by another Venard student who lived close to his home, and by reading the book A Modern Martyr. He was ordained at Maryknoll on June 11, 1939.
After ordination Father Elliott was assigned to Kweilin where he spent the first five years of his mission career. He grew into a steady, hard-working missioner, good in both spoken and written Mandarin and active especially with catechists. Because he was so good in carpentry and mechanical ability, he kept an orderly, attractive house and church. When the Japanese armed forces moved into Kweilin he moved with other Maryknollers to Kunming. There he served as Contract Chaplain with the U.S. Army, covering four bases in South China and aiding the war refugees in different villages. At the end of the war he received the U.S. Emblem for Meritorius Civilian Service. He returned to Kweilin in November, 1945. His superior stated that he preferred pioneer work in rural villages. In the Fall of 1947 he reopened Pinglo Mission which had been closed during the war. There he conducted a dispensary three times a week. He had four mission stations and two catechumenates with 60 to 70 catechumens. His attitude toward his people was kindly and sympathetic. Finally he was expelled by the Communists in December of 1950.
Father Herbert was assigned to Lipa in the Philippines in 1951 and spent the remaining 35 years of his mission service there and in Tagum Diocese with Bishop Joseph Regan. In his first parish in Pangil he built a comfortable rectory. Shortly after he was moved to the difficult parish of Santa Maria. Through the years his superiors said he was a very quiet, easygoing man who was satisfied with his job wherever he might be and willing to go anywhere to help anyone. As a companion, he got along well with the men, always affable and considerate but rather shy with new people. He became only fair in speaking the Visayan language. Besides his pastoral duties, he spent much time on his two hobbies: carpentry and mechanical work. As pastor of Maniki, Kapalong, in 1960 he built a church and rectory and was preparing to build a school when he was asked to complete the construction of the center house. He did a fine job.
After Vatican Council II Father Elliott became very conservative in his views. One of his superiors wrote that "He found it difficult to adjust to many of the changes taking place in the Church and showed little interest or enthusiasm in implementing the liturgical changes. However, he does not hamper the initiative of those with him in this regard." In the mid 1960s Father served as pastor of the Tagum Cathedral and Vicar General under Bishop Joseph Regan.
In 1974 he became ill. As a result, He moved from parish work to the Davao Center and served as chaplain for the Dominican Sisters at the hospital. He was formally assigned to the Special Society Unit in April, 1982 and maintained his residence in Davao, remaining there until continued health issues required is return to St. Teresa Residence at Maryknoll in August, 1985.
The Wake service was held at St. Teresa Residence at 7 p.m. and then at the Center chapel at 7:30 on November 11. Father John Rich conducted the latter service, the Scripture reading was by Brother Carl Puls and the Biography read by Father Morgan Vittengl. Mass of Christian Burial was offered the next day with Father Raphael Davila as principal celebrant; Scripture read by Sister Nadine Tierney, M.M., while Father John Moran gave the Homily. The graveside ceremony was conducted by Father Fidelis Goodman.