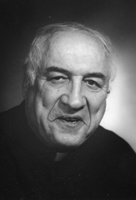 Father Herman W. Cisek, MM
Born: April 21, 1933
Ordained: June 12, 1965
Died: August 25, 2014
Father Herman W. Cisek died on August 25, 2014 at Mission St. Teresa's, Maryknoll, New York.  He was 81 years old and a Maryknoll priest for 49 years.
Herman Walter Cisek was born on April 21, 1933 in Chicago (Bellwood), Illinois, son of Walter and Helen Maka Cisek.  He had two brothers and one sister.  He attended St. Domitilla Parochial School and Jefferson Public School and graduated from Proviso Township High School in Maywood, Illinois.  He received a Bachelor of Architecture degree at the University of Illinois at Urbana – Champaign in February 1956.  He served two years with the U.S. Army Engineers in Europe and the Mid-East.  While serving in the Army he directed the road construction and rehabilitation project in Camp Bussac, France, and shouldered the responsibility for the entire construction of a NIKE site in Karlsruhe, Germany, for which he received a Certificate of Achievement.  He was honorably discharged as a 1st Lieutenant in June 1958.  He entered Maryknoll College, Glen Ellyn, Illinois for special studies in September 1958 and received a Bachelors of Divinity degree at Maryknoll Seminary on June 13, 1964.  He was ordained at Maryknoll Seminary, New York, on June 12, 1965.
After ordination, Father Cisek was assigned to Maryknoll's Mission Region in the Philippine Islands.  He learned the Cebuano language and served in parishes in Davao for 15 years.  During this time the Curcillo retreat movement was just being translated into the local language and adapted to the local towns and villages.  This led to the development of many small Christian communities throughout the large parishes.  For 15 years, in four different parishes, this was the focus of his work and the source of excitement and joy.  Father Cisek was also given responsibility for construction by Bishop Joseph Regan, MM.  Many new areas were being developed and existing plants expanded, so there was always something going on: new churches, rectories, convents, schools or parish facilities.  Often Father Cisek would travel from one side of the mission territory to the other, overseeing construction projects.  He also served as Second Alternate Consultor for the Philippines Region.
In March 1981 Father Cisek was recalled to the United States and assigned to the Chicago Development House, where he worked for five years.  From May 1986 until the summer of 1990 he served as Director of the Denver, Colorado Development House, and, in July 1990, he returned to the Philippines.
The following year, Father Cisek was appointed pastor of the Tigao Parish, a large rural parish along the northeastern shore of Mindanao.  There he served some 3,000 parishioners, most of whom lived in 14 outlying villages, each with its own chapel.  He was assisted by dedicated lay people who led Bible discussions, conducted prayer liturgies and Communion services, visited the sick and homebound, and worked with families to try to apply the Word of God to the conditions of their daily lives.
Following his 40th Jubilee celebrations, Father Cisek was assigned to the United States Region and did development work in the Chicago area.  He was assigned to the Retirement Community in June 2007 and moved to Oak Brook, Illinois.  In October 2013, Father Cisek moved to Mission St. Teresa's at Maryknoll, New York.
Wake services were held at 4:30 p.m. on September 3, 2014 at St. Teresa's.  Father Cisek's family received condolences and prayers at 10:00 a.m. on September 4, 2014 in the Lady Chapel.  A Mass of Christian Burial was concelebrated in Queen of Apostles Chapel on September 4, 2014 at 11:00 a.m.  Father James Ferry was Principal Celebrant and Father Thomas McDonnell was homilist.  Burial followed in Maryknoll Society Cemetery with Father Edward Dougherty conducting the graveside service.