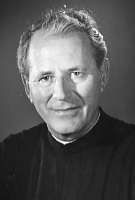 Father Hilary G. Jakowski, MM
Born: February 21, 1911
Ordained: June 21, 1942
Died: March 11, 1966
Hilary G. Jakowski was born on February 21, 1911 in Menasha, Wisconsin. After his graduation from high school he worked for two years as a bookkeeper. In the fall of 1931 he entered the Salvatorian Seminary in St. Nazianz, Wisconsin and spent four years there. In 1935 he was advanced to St. Meinrad's Seminary for his Philosophy course. He entered Maryknoll in 1937 and began the novitiate in September of that year.
He was ordained on June 21, 1942 and his first assignment was the Pando Vicariate in Bolivia where he became pastor of Guayaramerin.
After his furlough in 1950, Father Jakowski returned to the Pando. In December of 1954 he was recalled to the States for medical attention. In October of 1956 he was permitted to act as chaplain in Mercy Hospital in North Carolina but he still faced health issues. Gradually he gained strength until he was able to take a regular assignment again. This time he was sent to assist in the Seattle Promotion house. In 1962 he was named Director of the Milwaukee Promotion house. In April, 1965 he was appointed Assistant Spiritual Director at the Major Seminary.
Father Jakowski died on March 11, 1966 at the Roosevelt Hospital in New York City. The funeral Mass was held at Maryknoll on March 14. Father General arrived back from Rome in time to give the last Absolution.