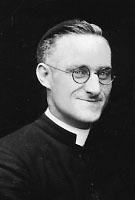 Father Howard C. Geselbracht, MM
Born: April 12, 1896
Ordained: June 19, 1927
Died: April11, 1988
On the eve of his 92nd birthday, Father Howard Cyril Geselbracht died peacefully at St. Teresa Residence on April 11, 1988.
Howard was born in Austin, Illinois, on April 12, 1896, the third son of Henry Herman and Frances Mason Geselbracht. He had 2 brothers and 2 sisters. His early education consisted of eight years at St. Catherine Academy in Austin and four years at Crane Tech High School in Chicago. He was graduated from the Agricultural College of the University of Illinois. He served in the United States Army during World War I.
Howard joined Maryknoll on Sept. 16, 1919, spent two years at the Venard and was ordained on June 19, 1927. He was assigned to Fushun, Manchuria. He learned the Mandarin language well and served in the Linkiang mission for 7 years. He made his Permanent Oath in Fushun in 1930. His mission career was varied with periodic changes involving different peoples, languages and countries but was limited by erratic health. In Linkiang his respiratory ailments began with bouts of asthma which forced him to return to the States for treatment in 1935. His Fushun superior wrote: "Howard tried to live like a native, eating their food and conscientious in fulfilling his mission work well. His priestly dispositions were exceptionally edifying and he was often referred to by the natives as 'the saint' ".
He returned to Fushun in March, 1937 and served as assistant pastor in the Hopei Parish. Both his written and spoken language were excellent. With the other Maryknollers in Manchuria he was interned by the Japanese in 1941 and returned to the States on the Gripsholm in December, 1943, where he began parish work in Douglas, Arizona. In 1945 he was assigned to the Brookline Development House and then to the Bedford Novitiate. He returned to Manchuria and Hopei in September, 1946 but one year later was forced to leave by the Communists. He moved to Kweilin and settled in Pinglo as assistant pastor. His superior there wrote: "Any pastor is glad to get Howard because of his ability in dispensary work and his great spirit of prayer which had a grand influence on the people." Again he was expelled from China by the Communists in 1950. He worked among the refugees in Hong Kong for a year and then in 1951 moved to Taiwan to serve as assistant to Msgr. William Kupfer. New language difficulties and other struggles made work difficult for him, and five months later he was transferred to the Philippines, serving as assistant pastor in the Mabitac Parish in the Lipa Diocese. At the age of 55 he began to learn Tagolog and to adapt to different people, culture, food and living conditions. After 4 years, due to his continued illnesses, he was recalled to the U.S. and assigned to Los Altos. There he had no official work but helped in supervising student study periods and giving meditations and conferences to the students. The Rector wrote of him: "He is a quiet, holy priest, who does his work, whatever he can, efficiently and is a source of edification to all in his own spiritual life. He is most kind and considerate and helpful in cases where anyone is ill."
In December of 1958 he was assigned to the Los Angeles Development House where he was helpful in the house and in emergency help-out work in parishes. A year later he took up residence and chaplaincy at the Maryknoll Sisters Hospital in Monrovia. For 23 years there he ministered to the Sisters and patients as much as he was able. All said his work of counseling, preaching and praying was excellent. Father Howard joined the Special Society Unit in December, 1977 and continued residence at Monrovia even after the Hospital closed. Through the years his health remained the dominant controlling factor in what he was able to do. He was transferred to St. Teresa's in September of 1983.
Wake services were held at St. Teresa's and the Center Chapel on April 12, conducted by Fr. Richard Callahan. Mass of Christian Burial was the following day, with Fr. Sylvio Gilbert as principal celebrant; Fr. John Corcoran as Homilist. Burial services in the cemetery were conducted by Fr. Vincent Mallon.