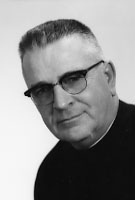 Father Howard D. Trube, MM
Born: January 3, 1913
Ordained: June 16, 1940
Died: June 15, 1995
Rev. Howard D. Trube died in his sleep at the Maryknoll Technical Secondary School in Kowloon, Hong Kong, on June 15, 1995.
Howard Trube was born in the Bronx, New York on January 3, 1913, the son of August and Rebecca Creed Trube. A product of the Bronx public schools, he graduated from Stuyvesant High in 1931. Because of family opposition to his entering Maryknoll, he enrolled at Cathedral College, the New York Archdiocesan Minor Seminary. Upon graduation from Cathedral, he convinced his advisers and his mother that his call to the foreign missions was genuine and so he entered Maryknoll in September 1933. He was ordained at Maryknoll, New York, on June 16, 1940. He was 82 years old and a Maryknoll priest for 55 years.
As a youngster, Howard had sung with the famous Paulist Choir and later, while a Maryknoll seminarian, he studied at Manhattanville College School of Liturgical Music. During his theology years he taught Gregorian Chant at the Major Seminary.
Bishop James E. Walsh presented him with his missioner's cross and official assignment to Kaying, South China on July 28,1940. After language study at Stanley in Hong Kong, he made the hazardous journey through scenes of devastation around Japanese occupied areas to reach Kaying. After two temporary assignments, Father Trube was sent to Shui Chai in Ng Wah County, the home of Hong Kong's present Bishop, Cardinal John B. Wu. Since Italy was part of the AXIS, the Italian Fathers in the Hoi Fung area, near Hong Kong, were interned by the Chinese military. Father Trube helped to obtain the release of these priests into the custody of Bishop Ford at the Kaying Seminary. The Italian priests were ever grateful to him for negotiating this change.
Father Trube was pastor of Ng Wah when the Communists took over the area, but for another year he was able to carry on his mission work and surprisingly add many converts to the parish. Soon after Christmas, 1950, however, he was accused of crimes against the Chinese people and was arrested. Expelled in November 1952, he received orders from Maryknoll to proceed to the Philippines. But Bishop Bianchi of Hong Kong and Maryknoll Father Thomas Malone appealed to the Maryknoll Superiors to have him remain in Hong Kong.
He immediately began work among the thousands of refugees flooding into the colony. Baptisms by the hundreds followed as the relief work, noodle projects and school attracted the poor who had fled from their homes on the mainland. He set up a vocational training center for the young, a clinic to take care of the ill and a school for adult education. In 1953, he obtained a grant of land from the government and, with a generous gift from Cardinal Spellman, built the famous Bishop Ford Memorial School and Center. To fill another need among the refugee people, Father Trube founded the coeducational Maryknoll Technical Secondary School in Jordan Valley, Kowloon.
During the time after his expulsion from China, Father Trube maintained a continuous liaison with the indigenous priests, Sisters and Catholics of the Kaying diocese and was able to assist them with encouragement, clothes, food and financial aid. During the past several years, he made frequent visits to the diocese of Kaying and was able to assist in the construction of a church in Hing Ning and the cathedral in Kaying City. Except for a few brief Home Leaves in the Untied States, Father Trube spent his entire 55 years of Maryknoll priesthood in Kaying and Hong Kong.
A wake and memorial service were held at 2:30 in the afternoon of Wednesday, June 21, 1995 at St. Benedict's Church in Shatin for the faculty and students of all Maryknoll schools with which Father Trube had been associated. Solemn Mass of the Resurrection was celebrated at St. Benedict's Church that same evening at 8:00 p.m. with Cardinal John Baptist Wu presiding. Burial took palce at St. Raphael's Cemetery in Cheung Sha Wan at 10:30 a.m. on Thursday, June 22nd.