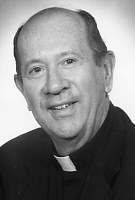 Father Howard E. O'Brien, MM
Born: July 30, 1924
Ordained: June 11, 1955
Died: March 5, 2014
Father Howard E. O'Brien died on March 5, 2014 at St. Teresa's Residence.  He was 89 years old and a Maryknoll priest for 58 years.
Howard Eugene O'Brien was born July 30, 1924, in Providence, Rhode Island, the son of Francis J. and Alma La Voie O'Brien.  He attended St. Pius grade school and graduated from Mt. Pleasant high school. He served in the U.S. Army Air Corps for three years during World War II.  Following his military service, in 1946, he studied at Providence College for two years before entering Maryknoll in 1947.
FBrien was again transferred, this time to serve as pastor and principal of the kindergarten in Nagaoka, where he stayed until 1971.  His next assignment took him to Kuwana Parish, where he was Administrator for one year before being named Pastor there.
In 1977 Father O'Brien returned to the United States and was subsequently named Administrator of the Maryknoll Society House in New York City, a role he filled until December 1984.  He then took on a new mission assignment to Tanzania, serving in the Dar es Salaam Society House as Administrator and Procurator.  Father O'Brien provided a comfortable, welcoming and spiritual environment in which members could renew themselves before returning to their ministries.  His contemplative style encouraged those who visited to sense that the house was something more than a residence.  It was truly a Dar es Salaam, "a spiritual haven," for all who visited the house.  Along with this, Father handled immigration issues, work permits for lay missioners, purchases, importing and transporting supplies to missions up-country.  This was all a tremendous service greatly appreciated by the members of the Tanzanian Region.  The impact of Father O'Brien's friendliness to those he encountered in his procuration work could be seen each year at the end of Ramadan when Muslim businessmen brought him gifts as a sign of their respect for his kind spirit.
Father O'Brien joined the Retirement Community on January 1, 1999. He continued to live and work in Dar es Salaam, until returning to the United States in February 2005, when he moved to Mission St. Teresa's.
Wake services were held at 4:30 p.m. on March 11, 2014 at St. Teresa's, and at 7:30 p.m. in Queen of Apostles Chapel at Maryknoll Center where Father Emile Dumas officiated and Brother Thomas Hickey read the biography.  Mass of Christian Burial was concelebrated in Queen of Apostles Chapel on March 12, 2014 at 11:00 a.m.  Father Richard Aylward was Principal Celebrant and homilist.  Burial followed in Maryknoll Society Cemetery with Father Edward Dougherty conducting the graveside service.