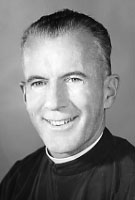 Father Irwin D. Nugent, MM
Born: May 20, 1918
Ordained: June 15, 1947
Died: December 8, 1991
Father Irwin Donald Nugent died in his room on December 8th, 1991. He was 70 years of age and a Maryknoll priest for 44 years. He had 5 brothers and 1 sister.
Father Nugent was born in Neponset, Massachusetts on May 20, 1918, son of Percival & Anne (McLaughlin) Nugent. As a boy he attended St. Ann Parochial School & a year at Boston Latin. He entered Maryknoll at the Venard in 1937. Somewhere along the line he acquired the name 'Hank' by which he was known popularly for the rest of his life. He was ordained in 1947.
After Ordination Father was assigned to the well-established mission in Kweilin. Along with language and cultural studies he was appointed assistant pastor in Tungan. He was a hardworking priest, known for his generosity, his desire to help others, his tolerance for others' opinions and his sociability which enabled him to make friends easily. His Superior wrote that Fr. Nugent "made a good beginning as a missioner. He does well in the language, likes the people very much and enjoys especially the mission trips to neighboring villages." Three years later when the Communists took over he was placed under house arrest and after 6 months was expelled from China in 1951,
On May 5, 1951 he was assigned to Japan and began language and cultural studies a few months later. Because he was so very sociable he quickly did well in the spoken Japanese. Appointed assistant Pastor in Yokaichi-Mie-kan, when the Pastor went home on furlough he was made Pastor of that parish. The Superior General on his visitation praised Father Nugent as "a fine priest and an excellent representative of Maryknoll in every way."
Upon his return from a visit to the States to attend the ordination of his brother, Robert, in 1955 Fr. Irwin was assigned to Yomashina Mission as Pastor. In 1959 he went as Pastor at a new mission in Shinzumai and 2 years later to Kashina, Oyubari where he supervised the construction of the parish church building. His Superior wrote of him: "Whenever I visit Hank I always find him grateful for his vocation. He is at home tho calling the Lord has given him. He can pray alone as well as with others."
On furlough in 1962 Fr. Nugent was assigned to Development in Cleveland. In his mid-forties he began to develop health problems, but in 1965 to was able to return to Japan. He was sent to Kyoto where he was resident chaplain to the Notre Dame Sisters Convent and high school.
In 1968 he returned home for medical treatment. Returning to Japan again after this he was appointed Chaplain to the Brothers of Charity in St, Mary's International School for Boys in Tokyo. The Brother Superior wrote: "He has been an example to us all, chiefly through the daily Eucharistic celebration which he always did with singular dignity and devotion. He shared our life and in all respects was one with the community. His unobtrusive presence and tact, his repeated and discreet attempts to please one and all, will be sorely missed." Three years later he was assigned to St. Teresa's Residence,
There he lived an active community life. He was one of the constant main celebrants at Community Mass. He kept busy with his hobbies of making earthenware religious articles and his stamp collection.
Wake services were on December 10 conducted by Father Edward Hayes. The burial Mass was on the 11th in the Center Chapel with Fr. William Eggleston as principal celebrant and Fr. Albert Reymann as Homilist. Burial was in the Maryknoll Cemetery, conducted by Fr. James Kroeger.