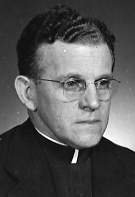 Father J. Clarence Burns, MM
Born: October 10, 1900
Ordained: June 17, 1934
Died: March 5, 1976
Father J. Clarence Burns died this morning at 2:25 a.m. , March 5, 1976, at Toledo (Ohio) Hospital. Father "Clary" Burns had been in serious condition at the hospital since early February. His Maryknoll brother, Father Constantine F. Burns, who has resided at St. Teresa's since last December, was with him in Toledo at the time of his death.
Father Clary Burns was born in Toledo on October 10, 1900. He attended St. Francis de Sales parish school, and did industrial work during the World War I years and following. He joined Maryknoll in September 1922, and was ordained after studies at the Venard and Maryknoll on June 17, 1934. He was assigned to Fushun, Manchuria in 1934. From February through November 1936, he was captured and held by 'bandits', who in the retrospect of history seem to have been Chinese nationalists primarily interested in trying to embarrass the Japanese occupiers of Manchuria. He was named Procurator of the Fushun Mission in 1938. He return to the U.S. on leave in mid-1940, and as it worked out was never again to return to the Far East. In June 1942, he was named Superior of the Chicago Development House, in September 1943 became Procurator at Maryknoll, in 1948 helped direct the construction and furnishing of Glen Ellyn, and became Procurator at Glen Ellyn in April 1949. Although he retired in 1966, he continued to live and do some work in the Business Office at Glen Ellyn until October 1972, at which time he went to live with his sister, Mrs. Hildegard Mettie in Toledo.
The difficult situation he experienced during his months of captivity among the 'bandits' in 1936 had a lasting impact on him. Bishop James Anthony Walsh, in March 1936 and only a month before his death, requested daily prayers in all Maryknoll houses for Father Clary Burns' safe return. Father Burns published an account of his captivity, Bandits Surrounded Him, in 1941. The 'bandit' captain is quoted as saying at the time he was released: "Father, it means the loss of my head, but I cannot kill you…. I believe the Shen Fu (Father) when he says he has no hate for me." Father Burns commented about his release: "This can only be a miracle of grace – a heavenly answer to somebody's prayer.  His years of work on Development and in education were of steady, efficient performance, although he seldom felt really well. He wrote of his asthma as one of those things I know that has to be recognized as a lifetime affair, and living and doing things in accord, it is possible to continue a fairly even keel for quite a while."
A wake for Father Clary Burns was held in Toledo. A Vigil Service was also held at the Maryknoll Chapel at 7:30 p. m. on Monday, March 8, and Mass of the Resurrection was concelebrated at 11:45 a. m. on Tuesday, March 9, in the Maryknoll Chapel. Burial followed at the Maryknoll Cemetery.