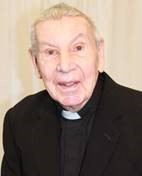 Father J. Donald McGinnis, MM
Born: November 9, 1926
Ordained: June 13, 1953
Died: April 15, 2020
Father J. Donald McGinnis died on April 15, 2020 at the Assisted Living Center at Maryknoll, NY.  He was 93 years old and a Maryknoll priest for 66 years.
James Donald McGinnis was born in Philadelphia, PA, on November 9, 1926, son of Paul and Anna McCabe McGinnis.  He had three brothers, Paul, Joseph, and John, and one sister, Marie.  He attended St. Bartholomew Parochial School (1-4) and St. Martin of Tours Parochial School (5-8).  He attended LaSalle College High School for three years and finished his last year of high school at Maryknoll Apostolic College (the Venard), Clarks Summit, PA.  At Maryknoll Major Seminary in Ossining, NY, he received a Bachelor of Arts degree, a Master of Religious Education degree and a Master of Divinity degree.  He was ordained at Maryknoll Seminary, NY, on June 13, 1953.
Fr. McGinnis departed in August 1953 for the Maryknoll Mission in Taiwan.  After studying the Hakka language, he was appointed Pastor of the Kung Kuan Catholic Mission in the Miaoli Deanery where he served for five years.  In 1959, he studied the Mandarin language at the Far Eastern Language Institute at Yale University.  Upon his return to Taiwan, he was appointed Pastor of St. Anne's Parish in Miaoli City, and he was later transferred to the Tahu Mission.  In 1965, he was elected Chapter Delegate and participated in the 1966 General Chapter at Maryknoll, NY.  After Chapter he returned to Taiwan and served as Pastor of the Toufen Mission.
In 1970, Fr. McGinnis began to teach at the Chengchi National Political University and at the National Taiwan University and served as English Secretary for the Archbishop of Taipei.  In 1974 he became Administrator at the Muchad Parish in Taipei.  Due to illness in 1975, he returned to the United States.  After recovery, he spent a period of time working in Campus Ministry at the University of Hawaii.  He returned to Taiwan in 1978, and for four years he taught at the Kaohsiung Teachers' College and Sun Yat-sen University in southern Taiwan.  At that time, he also did pastoral work in a rural parish.
In July 1982, Fr. McGinnis was recalled to the United States Region for Maryknoll Development work in the Los Angeles area and then in Washington DC.  After many years on Development, he served as an Assistant Pastor at St. Rose of Lima, Freehold, NJ and St. Mary of the Lake, Lakewood, NJ.  He returned to the Development Department and was first assigned to the Yonkers, New York Development House and then appointed as Director of the Development House in South Orange, NJ.
Fr. McGinnis returned to Taiwan in 1993 and began serving as Pastor of the Sacred Heart of Jesus Parish, Shulin City, just outside the capital city of Taipei.  For a number of years, he was the English Secretary of the Chinese Regional Bishops' Conference. The parish was noteworthy for having four weekend Masses for different language groups: Amis (a native language of the eastern part of the island), Mandarin, Taiwanese, and English (for Filipino migrant workers).  Fr. McGinnis was a Chapter Delegate to the Tenth General Chapter (1996).  Sacred Heart of Jesus Parish celebrated his 50th Ordination Anniversary in April 2003, with friends from around the island joining in the celebration.
Although given retired status in January 2006, Father continued to live and work in Taipei, Taiwan until he returned to the United States in late 2011.  In 2013, Fr. McGinnis was assigned to the Retirement Community (now Senior Missioner Community) and he resided at Maryknoll, NY.
A Mass of Christian Burial was celebrated in Queen of Apostles Chapel on April 18, 2020.  Fr. Kevin Hanlon was Celebrant and homilist, and Fr. Peter LeJacq was the reader of the scripture, the Oath and the biography.  Burial followed in the Maryknoll Society Cemetery.