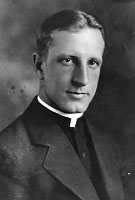 Father J. Ernest Mailhot, MM
Born: August 31, 1901
Ordained: February 1, 1931
Died: August 2, 1970
J. Ernest Mailhot was born in Manville, Rhode Island on August 31, 1901. He attended St. Hyacinth Parochial School in New Bedford, graduating in 1916. He completed his high school studies in 1919 at Assumption College, Worcester, Massachusetts. He then went with his family to Quebec where he did farming, worked as a lumberjack, river pilot, pharmacy clerk and mill operator. He entered the Venard in 1923.
After his ordination, which took place on February 1, 1931, he was assigned to the Venard faculty and then to Los Altos, becoming Rector of the latter in 1936. In 1938 he was assigned to Kyoto. He was interned by the Japanese at the outbreak of the second World War and repatriated on the Gripsholm in 1942.
He then worked on the Faculty as Vice-Rector at Brookline and later as Vice-Rector, Prefect of Studies and First Consultor at Glen Ellyn. He was instrumental in getting a group of Canadian Sisters, the Soeurs Antoniennes, to come both to Brookline and to Glen Ellyn to take care of the kitchen work and in this he proved a good buffer between them and the rest of the community as the Sisters spoke little if any English, at least in the beginning.
Father Mailhot died suddenly on August 2, 1970 at North Adams Hospital in Massachusetts.
A concelebrated funeral Mass in St. Anne's Church, New Bedford, was held and Fr. William Bergan was principal celebrant, while Father Charles Kenney preached the homily. Burial took place at Maryknoll, New York.