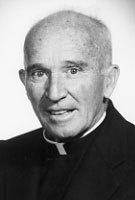 Father J. Gerard Greene, MM
Born: January 3, 1917
Ordained: February 7, 1943
Died: June 13, 2007
Father J. Gerard Greene died at St. Teresa's Residence, Maryknoll, New York early in the morning of June 13, 2007. He was 90 years old and a Maryknoll priest for 64 years.
James Gerard (Roddy) Greene was born in Jamaica, Queens, New York City on January 3, 1917, son of Matthew and Mary Kennedy Greene. He attended St. Thomas the Apostle School in Woodhaven, New York for eight years; then studied for six years at Cathedral High School and College Seminary in Brooklyn, New York. He entered Maryknoll at the Venard, Clarks Summit, Pennsylvania in 1936, in his third year of college, and then took four years of Theology at Maryknoll Seminary. He was ordained a priest at Maryknoll, New York on February 7, 1943.
After ordination, Father Greene was assigned to the new Maryknoll Mission in Quintana Roo, Merida, Mexico. A large contingent of Maryknollers, repatriated from the Orient, went to Latin America that year. The repatriates departed in January, the newly ordained in March.
Father Greene studied Spanish and Mexican culture for six months in Merida and then was appointed pastor of San Miguel Parish on the island of Cozumel. In June of 1944 he became pastor of the isolated mission in Bacalar just north of the capital, Chetumal. Bacalar was noted as a source of chicle and mahogany. In 1949 Father Greene became assistant pastor in Peto, Yucatan where there was a large Mayan population. He was devoted to the poor and the sick and made successful beginnings in forming a credit cooperative and adult education program for the Mayan people. While on home leave in 1952, Father took a two-week course on social action at St. Francis University in Antigonish, Nova Scotia.
In April 1953 Father Greene became assistant pastor of San Sebastian parish in the city of Merida. After two years he became pastor of San Pedro parish in Sotutu, Yucatan, once again establishing a successful cooperative among the people and a well-organized parish life. In October 1956 Father Greene was appointed First Consultor to the Regional Superior and in November 1961, Regional Superior of the Mexico Region, succeeding Father Thomas O'Rourke. In this capacity he attended the 1966 Society Chapter.
In September of 1966 Father Greene returned as pastor of San Miguel parish on the Island of Cozumel. In 1973 he was transferred as assistant pastor to the new parish of Mary Mother of the Church in the  Aragon I sector of Mexico City. From 1976 until 1991 he served as pastor of St. Joseph the Worker Church in the City of Campeche, state capital of Campeche. There he supervised the construction of a parish church. He was elected delegate to the 1984 Maryknoll Chapter, but because of ill health he resigned the post in favor of an alternate delegate.
In 1991 Father Greene joined the Special Society Unit with residence and limited pastoral ministry in the State of Morelos near Cuernavaca. In 1994 he took up residence at Maryknoll, New York, which gave him the opportunity to spend time with his sister, Mary Patricia. Father Greene moved to St. Teresa's Residence in April 2000, and while able, served the infirm with many acts of kindness.
Wake services were held at 4:30 p.m. on June 14, 2007 at St. Teresa's and at 7:30 p.m. in Queen of Apostles Chapel at Maryknoll Center where Father Thomas Saunders officiated and Father Edward Walck read the biography. Mass of Christian Burial was concelebrated in Queen of Apostles Chapel on June 15, 2007 at 11:00 a.m. Father Robert Lloyd was Principal Celebrant and homilist. Burial followed in Maryknoll Society Cemetery with Father John McAuley conducting the graveside service.