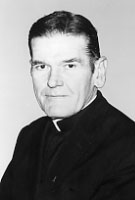 Father J. Gregory Gilmartin, MM
Born: June 29, 1920
Ordained: June 12, 1948
Died: August 7, 1999
Father John Gregory Gilmartin died on Saturday evening, August 7, 1999 at St.Teresa's Residence. He was 79 years old and a Maryknoll priest for 51 years.
John Gregory Gilmartin was born on June 29, 1920 in Waterbury, Connecticut, son of John and Irene Moriarty Gilmartin. He has one sister, Mary; and had a younger brother Donald. He attended St. Margaret's grammar school and Crosby High School, both in Waterbury. Father Gilmartin studied for two years at Holy Cross College, Worcester, Massachusetts, one year at St. Thomas Preparatory Seminary, Bloomfield Connecticut; and at St. Mary Seminary, Baltimore, Maryland before entering Maryknoll Novitiate in Bedford MA on September 10, 1944. He was ordained at Maryknoll, New York on June 12, 1948.
After ordination Father Gilmartin was assigned to Kweilin, South China. As had happened to many Maryknoll missioners at this time, before he could settle in, the Communists invaded and he was placed under house arrest from January 1950 to April 29, 1951. In May of 1951, Father Gilmartin was assigned to Kyoto in the Japan Region. Apart from periodic furloughs, he spent almost all of his missionary career in Japan, serving as pastor in the parishes of Tanabe, Karasaki and Suzuka Catholic Church, and at the same time, he was on the teaching faculty of Kyoto University for 33 years.
Fr. Gilmartin was called 'Gentleman Greg' by all who knew him. He had only kind words to say about people and was grateful for whatever people did for him. His gentleness and grateful manner endeared him to the Japanese people.
On January 1, 1995 Father Gilmartin was assigned to the Special Society Unit and took up residence at St. Teresa's. During his time at St. Teresa's 'Greg'as he was known, was a true example of a long-suffering servant. He never complained, but quietly accepted his physical limitations. He enjoyed watching all types of sports, particularly football.
At the family's request the wake and funeral services were held only at St. Teresa's. The wake service was held on August 11, 1999 at 7:30 p.m. with Father Alfred Keane officiating. Mass of Christian Burial was concelebrated on Thursday, August 12, at 11:00 a.m. Father James A. Jackson was Principal Celebrant and Father Robert Reiley homilist. Burial followed at Maryknoll Center Cemetery with Father Jeremiah Burr conducting the graveside service.