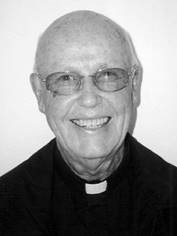 Father J. Lawrence Schanberger, MM
Born: October 21, 1922
Ordained: June 11, 1949
Died: May 22, 2021
Father J. Lawrence Schanberger, M.M. died on May 22, 2021 at the Assisted Living Center at Maryknoll, New York. He was 98 years old and a Maryknoll priest for 71 years.
James Lawrence Schanberger, one of seven children, was born on October 21, 1922, in Baltimore, Maryland, son of James and Marguerite McCloskey Schanberger. His early schooling was at All Saints Parochial School, then as a seminarian for the Archdiocese of Baltimore and, after six years, graduated from St. Charles College, Catonsville, Maryland. He studied for one year at St. Mary's Major Seminary in Baltimore before joining Maryknoll on September 1, 1943 at Maryknoll Seminary, New York. Why this sudden change? Because one evening, Bishop James Edward Walsh had been invited to speak to the College students of St. Charles College, run by the Sulpician Priests in Baltimore. When he got off the train, where a Sulpician priest was waiting to take James Edward Walsh to the Diocesan Seminary, Bishop James Edward Walsh saw and heard a very poor old man, lying on a nearby bench near the exit, shaking with the cold and his other weaknesses, the Bishop immediately stopped accompanying the Sulpician priest and went to the side of the suffering old man. He took his cold hand, gently spoke to him and blessed him with a prayer. Bishop Walsh then took off his own winter coat and wrapped it around his shoulders, kissed his hand and said good-bye. Bishop Walsh returned to the waiting Sulpician priest who had witnessed all that had happened. When they arrived at the Seminary to the waiting student body and priests, Bishop Walsh gave a thirty minute talk about mission life and God's wonderful blessings. At the end of the speech, the Sulpician priest very quietly passed the story around of what had occurred at the train station. Upon hearing the Bishop's talk and the news, James Lawrence Schanberger knew he was being called to join Maryknoll. Father Schanberger was ordained at Maryknoll on June 11, 1949.
After ordination, Father Schanberger was assigned to further studies and received his Bachelor of Science degree in Chemistry at Manhattan College in New York and then was assigned to the faculty of Maryknoll College, Lakewood, New Jersey for two years. In 1952 he was assigned to Maryknoll's Mission Region in Chile, where his assignments included directing and developing the work of the Molina Agricultural School where young Chilean farmers received basic education and technical training. The presence and leadership of the Maryknoll Brothers made possible a very productive formation program. Eight years later in 1960, he was assigned to La Asuncion Parish in Talcahuano, which continues serving the steel workers of Chile and their families. Working with a team of Maryknoll priests, Brothers and Sisters, every effort was made to give a strong apostolic formation to the young students and the lay leaders. In 1968 he was appointed Superior of Maryknollers in the then quite new (begun 1965) Venezuela Mission Unit. In June 1971 he was elected Regional Superior of the Venezuela/Colombia Region and in this capacity served as Delegate to the Sixth General Chapter in the fall of 1972. From 1974 to 1979 Father Schanberger was Rector of the Maryknoll Major Seminary in New York. During that time he received a Master's degree in Christian Spirituality from Creighton University, Omaha, Nebraska.
In October 1979 at age 57, Father Schanberger at his own request, was assigned to the Maryknoll Bangladesh Unit and embarked on a totally different mission career. Due to a long delay in getting a visa to enter Bangladesh, he spent 14 months in Calcutta, India, working closely with Mother Teresa and her Missionary Sisters and Brothers of Charity and also studying the difficult Bengali language. Finally in December 1980 Father Schanberger was able to begin his work in Bangladesh. From July 1981 to January 1995 he was Pastor of rural Holy Spirit Parish in Tuital, which is only 25 miles from Bangladesh's capital city of Dhaka but a 7-hour boat trip. In 1987 and again in 1988 there were terrible floods in Bangladesh which Father weathered along with his people in the Tuital Parish. In the September 1988 flood, he had several feet of water in his rectory and church.
In July 1994 he became seriously ill and had to be evacuated to the United States. After an extended hospital stay, his health improved. However, the doctors cautioned him not to return to the rigors of missionary life in Bangladesh.
In January 1995 at his request, he was given permission to join the Andean Region, in particular serving the Church in Chile. He assisted the Chilean Pastor and Chilean First Assistant in a large city parish, "Our Lady of Mercy" near Santiago. The challenges of city life: unemployment, violence, drugs, insufficient medical facilities, unemployment, pornography etc. were his new missionary challenges.
Father Schanberger noted that the high points of his mission career have been the blessing of working with Mother Teresa of Calcutta and her Community in their efforts to serve the very poor and abandoned persons. In addition, the wonderful experience of serving the Catholic families of the rural Parish of Bangladesh and witnessing the mutual effort and desire to live in peace and respect with Muslim and Hindu communities who are their neighbors. And for 19 years, a high point of his mission life was the opportunity to live and work with four Chilean Pastors and their Chilean Assistant Priests. Besides being an expert at collaborating with the local Chilean Church, he gained a deeper understanding of the Chilean culture, the values and priorities of the Chilean priests and their impressive relationship and understanding of their parishioners.
Father Schanberger returned to the United States in early 2014 and was assigned to the Retirement Community (now Senior Missioner Community). In 2016, he was appointed to the Mission St. Teresa's Prayer Partners Team. In 2019, Father Schanberger celebrated his 70th Jubilee as a Maryknoll priest with family and friends.
Father Schanberger is survived by his sister-in-law Evelyn Schanberger and many nieces and nephews.
A Mass of Christian Burial was celebrated in Queen of Apostles Chapel at 11:00 a.m. on May 27, 2021. Father Raymond Finch was Principal Celebrant and homilist. Father Gerald Persha read the biography and Father John Sullivan read the Oath. Burial followed in the Maryknoll Society Cemetery.