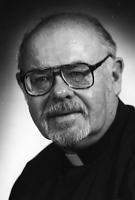 Father James A. Bodenstedt, MM
Born: April 7, 1928
Ordained: June 9, 1956
Died: December 21, 2000
Father James A. Bodenstedt died on December 21, 2000 at St. Teresa's Residence. He was 72 years old and a Maryknoller for 44 years.
James Arthur Bodenstedt was born in Toledo, Ohio on April 7, 1928, the only child of Arthur R. Bodenstedt and Clare Kousen Bodenstedt. He attended Gesu grammar school and graduated from Central Catholic High School in Toledo. His arrival at Maryknoll in September 1948, was via the University of Detroit. He earned his B.A., M.R.E. and S.T.B. degrees all from Maryknoll, New York and was ordained at Maryknoll Seminary on June 9, 1956.
After ordination, Father Bodenstedt sailed for Taichung, Taiwan. Aside from three years on Development in Cleveland, Ohio, from 1975 to 1978, Father worked all of his missionary career in Taiwan. He was first assigned to the Catholic Mission in Pei Tou. Later he went to Lu Kang where he developed skills in constructing mission buildings. After his first furlough, he began a long assignment to Shui Li until he went on promotion work in the United States from 1975 to 1978. Upon returning to Taiwan, he was assigned to the Pu Li Parish in 1980. In Bishop Kupfer's formal announcement of Father Bodenstedt's appointment as pastor, he wrote: "I am delighted to have you back working with us, and I know that the Pu Li Catholics share my delight!" In late 1984, Father Bodenstedt took up residence in the Taipei Society House and was active in the pastoral ministry at Maryknoll's Friendship House. He later returned to the Shui Li parish where he built a new church and rectory.
Due to poor health, in May 1993, Father Bodenstedt was assigned to the Special Society Unit and moved to Maryknoll Residence, Los Altos, California. In November 2000, he transferred to St. Teresa's Residence. Father Bodenstedt will be remembered for his mission construction and his love of the Taiwanese people.
Wake services were held at 7:00 pm. on December 22, 2000 at St. Teresa's and at 7:30 p.m. at Queen of Apostles Chapel at Maryknoll Center where Father William D. McCarthy officiated and Bro. Donald Miriani read the biography. Mass of Christian Burial was concelebrated at Queen of Apostles Chapel on December 23, 2000 at 9:00 a.m. Father William Frazier was Principal Celebrant and Father John J. Moran homilist. Burial will be at Maryknoll Center Cemetery.