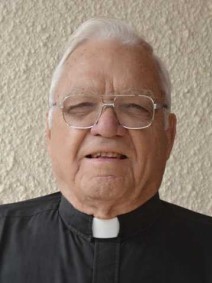 Father James A. Conard, MM
Born: November 27, 1929
Ordained: June 9, 1956
Died: April 30, 2021
Father James A. Conard died on April 30, 2021 at the Assisted Living Center at Maryknoll, New York.  He was 91 years old and a Maryknoll priest for 64 years.
James Arnold Conard was born on November 27, 1929 in Green Bay, Wisconsin, son of Clifford and Estella Van Den Wymelenberg Conard.  He had three brothers and one sister.  After finishing grade school at St. John the Evangelist Parish, he studied at Central Catholic High School.  Upon graduation, he entered Maryknoll at Lakewood, New Jersey in September 1947.  He was ordained a priest on June 9, 1956.
After ordination, Father Conard was assigned to Africa to work in the Musoma Prefecture in what was then called Tanganyika Territory, beginning his over sixty years of missionary service in Tanzania.  His first seventeen years were at Iramba Parish on the edge of the Serengeti Plains working with the Bangoreme people.  In Ngoreme he built the first Standard Seven Primary School in 1964.  He also built a dispensary, chapels and a new church at Iramba in 1965.  The people were mostly herders and hunters.  As the primary purpose of the cows was for "bride's dowry," he introduced Friesian cattle to the area to increase milk production.  From 1973 to 1976, Father Conard worked at Zanaki Mission.  Then from 1976 to June 1978 he was pastor of Mugango Parish on the shores of Lake Victoria.
In June 1978 Father Conard was assigned pastor of Kowak Catholic Church, where he served for nearly forty years.  In the 1980s, Father Conard was instrumental in enlarging the local dispensary to a fifty-bed Health Centre.  About 200 blood transfusions were given each month, mostly to small children suffering from the effects of malaria.  Through his efforts and with the support of benefactors, the Kowak Hospital continued to grow.  Most of the funds for the 1980's extension came from Japan, as did two workers.  The parish of Our Lady of Lourdes in Rochester, New York also generously provided support for Kowak Hospital for over 25 years.  The hospital grew to 175 beds with an advanced major and minor operating theatre, X-ray, ultrasound, blood analyzer, hematology machine, biochemistry machine and a CD4 analyzer for HIV patients.  By 2016, the HIV clinic was serving 2,500 patients including 150 children.
Father Conard spent much of the early 1990's starting and building Kowak Girls Secondary School.  This boarding school for 540 girls was badly needed.  It celebrated its first graduation in October 1995, and continues to produce a yearly class of bright and ambitious girls.  In reflecting upon his missionary career, Father Conard noted that he was most proud of building the Kowak Hospital and the Kowak Girls Secondary School.  He was quick to point out that none of this work would have been possible without the generous support of many donors and Maryknoll, and to express his gratitude with an emphatic "ASANTE SANA!"
Father Conard was appointed to Senior Missioner Status in July 2016, and remained in Tanzania until late 2017 when he returned to Maryknoll, New York.  In January 2019 he was assigned to the Senior Missioner Community.  He moved to the Maryknoll Residence at Los Altos, California where he continued to reside until returning to Maryknoll, New York in late 2020.  During this time he wrote a memoir of his years in mission, titled "A Life in Africa," which he published in 2020.  He reflected that "Tanzania wasn't a place that I visited.  It was my home… I'm grateful for the time that I got in the beautiful country of Tanzania.  I'm grateful for the memories, the priests, and the volunteers that made an impact. And, of course, I'm grateful to God."
A Mass of Christian Burial was celebrated in Queen of Apostles Chapel on May 5, 2021.  Father Michael Snyder was Principal Celebrant and homilist.  Father Edward Davis read the biography and Father Francis Breen read the Oath.  Burial followed in the Maryknoll Society Cemetery.  Father Raymond Finch conducted the graveside prayers.