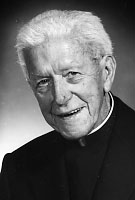 Father James A. Flaherty, MM
Born: March 17, 1915
Ordained: June 22, 1941
Died: September 28, 1995
Rev. James A. Flaherty died during the afternoon of Thursday, September 28, 1995, at El Camino Real Hospital in Los Altos, California. He was 80 years of age and a Maryknoll priest for 54 years.
James A. Flaherty was born on St. Patrick's Day, March 17, 1915 in Philadelphia. He was the second son of James A. and Mary Bradley Flaherty. Jim's older brother, Joseph, was an Augustinian priest; he also had an older sister, Miriam. His father wanted to name him Patrick but his very sensible mother insisted that the surname Flaherty was sufficient recognition of his forebears and to add the name Patrick might be too much.
James was the son of one of the earliest Supreme Grand Knights of the Knights of Columbus, who directed the activities of that illustrious group from 1916 to 1927. James attended Notre Dame Academy in Rittenhouse Square (a Philadelphian historical site) and graduated in 1932 from St. Joseph College Prep, run by the Jesuits. His ardent desire to become a missioner to non-Christian lands began to unfold when he enrolled in the Maryknoll Junior Seminary (Venard), Clarks Summit, Pennsylvania, in September 1932.
After his ordination at Maryknoll, New York on June 22, 1941 Father Flaherty spent a year on promotion. In 1942, he was one of the original group of Maryknoll priests assigned to the Maryknoll mission in La Paz, Bolivia, at the Assumption Parish. He became fluent in Spanish and Aymara languages.
Father Flaherty was assigned as the first Maryknoll pastor of the parish of San Roque in Santa Cruz, and later on, the parish of Warnes in the outskirts of Santa Cruz. In 1954, he was transferred to the neighboring Altiplano of Peru. He represented his fellow missioners of Peru in the Society's Fourth General Chapter in 1956 at Maryknoll, New York.
In 1957 he moved to Guatemala to work among the Indians living in very similar cultural and religious conditions as in Bolivia and Peru. For the past thirty-five years he was a dedicated pastor among the people of Guatemala. His first assignment was to San Idelfonso Ixtahuacan in the Diocese of Huehuetenango. In 1959, Jim was asked to open up new mission territory in the Diocese of Quetzaltenango, serving in rural parishes of San Carlos Sija, San Francisco, La Union and for 14 Years in Olintepeque. Father Flaherty had the reputation of being good at opening new parishes and preparing the way for others to follow.
During his time in the Diocese of Quezaltenango he organized the Accion Catolica group among the people. He started a successful agricultural program with the Indians by bringing in new wheat seed and fertilizer and improving their farming methods. Jim served on the Regional Council from 1967 to 1972 as second consultor.
In 1978 Father Flaherty moved back to the diocese of Huehuetenango to the parish of Todos Santos, a rural area. Due to the violence in Guatemala, in 1981 Jim was asked to move closer to the center of Huehuetenango to become pastor of Malacatancito, Huehuetenango. The Regional Superior wrote of Father Flaherty during this very difficult time for the people and Church of Guatemala: "In 1981 Father Flaherty remained at the parish in Todos Santos despite the real danger of the military carrying out their counter insurgency tactics. Father Flaherty was asked by his Regional Superior to come out of Todos Santos in order to lessen the danger to his life… For several years and in many ways, Father Flaherty heroically continued to attend to the people of Todos Santos." To many of the local younger clergy of Huehuetenango Father Flaherty was considered a 'Grandfather' and many sought him out for advice, counseling and spiritual guidance.
At age 70 in 1985 Father Flaherty opted to remain active in the Guatemala Region in parochial ministry for as long as possible. However, due to declining health, in January 1994, he took up residency at Los Altos, California.
Wake services were held Sunday, October 1st, at Maryknoll Residence in Los Altos. Mass of Christian Burial was on Monday, October 2nd, with Fr. James Connell as Principal Celebrant; Fr. Edward Moore, homilist; and Brother Thomas Hickey as lector. Burial was at the Maryknoll Cemetery, Los Altos, California.