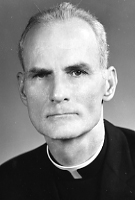 Father James B. Collins, MM
Born: October 12, 1912
Ordained: June 16, 1940
Died: April 20, 1979
Father James B. Collins (U.S.) died on April 20, 1979, at Saint Teresa's Residence. Following an afternoon walk, Jim went to his room to rest. He died at 6:00pm.
Born in Philadelphia, Pennsylvania, on October 12, 1912, Jim was the son of James M. Collins and Katherine L. Bennett, immigrants from Ireland and England, respectively. After studies at Our Lady of Victory Parochial School, Jim attended West Catholic High School for two years before entering Saint Charles Seminary, Overbrook. In Jim's fourth year of studies at Saint Charles, a visiting missioner to the seminary so inspired Jim that he later judged the beginning of his foreign mission vocation from the encounter. Soon after, in September 1933, Jim entered Maryknoll.
During his formation years, Jim was "œa living act of charity…a most thoughtful Christian gentleman… with a good head which he seems to use only for others." Shortly before ordination on June 16, 1940, Jim was discovered to have a heart condition which over the years did affect his health and memory. Although the doctors at that time judged that, optimistically, Jim would have twenty more years of life, he completed thirty-two years of active service and was always the "dedicated, hard-working" missioner.
Jim served Maryknoll and Mission for two years in Development work before being assigned to Hawaii in June of 1942. His mission career continued in the Philippines from March, 1958, until September, 1972, when he returned to the U.S. and resided at St. Teresa's. Throughout, he was considered a holy priest of a simple lifestyle, one who was strict on others, but even more strict on himself. As Bishop Lane wrote at one point, "he is a fine priest in every way. We can be very proud of him."
The funeral was held April 24 in the Seminary chapel, after which Jim was buried in the Center cemetery. Father James Noonan, Jim's former Regional Superior in the Philippines, was the Principal Celebrant. Father William R. McCarthy, a classmate, was the homilist.
An hour or two before he died, when Jim was taking a walk to enjoy the beautiful spring, he met a fellow Maryknoller who remarked on the lovely day. Jim replied, "This is one of the best days I've ever had."