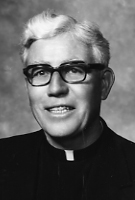 Father James C. Connell, MM
Born: November 13, 1915
Ordained: June 11, 1944
Died: December 30, 1999
Father James Connell died on December 30, 1999 at St. Teresa's Residence. He was 84 years old and a Maryknoll priest for 55 years.
Father Connell was born on November 13, 1915, in San Francisco, California one of six children born to Robert Francis Connell, and Margaret Delphine Welch. He attended public grade schools for two years and then attended St. Paul's Parochial School for seven years. He entered Maryknoll Junior Seminary in Mountain View, California, on September 10, 1930 and studied for six years at the Archdiocesan St. Joseph College in Mountain View. Among his fellow classmates, he developed strong bonds of friendship which remained affectionately with him for the rest of his life. He studied at Maryknoll Apostolic College, (Venard), Clarks Summit, Pennsylvania for two years and entered his Novitiate year at Bedford, Massachusetts on September 1, 1939 and at the end of it pronounced his First Oath of Obedience. Father Connell was ordained a priest at Maryknoll Seminary in Ossining, New York on June 11, 1944.
After ordination, Father Connell was assigned to the Maryknoll Mission in the Diocese of Puno, Peru, South America. He did his language and cultural studies in Arequipa and then was assigned to teach at the San Ambrosio High School Seminary in Puno for three years. He served for six months as Assistant Pastor of the Maryknoll mission in Sandia and then at San Juan Parish in Puno, Peru for three years.
During home furlough in 1952, Father Connell took up further Spanish language and catechetical studies in California. He was a good linguist and upon his return to Puno in 1952 was appointed Local Superior and Director of the Maryknoll Society House and Language School in Arequipa for one year. After his term ended, he was appointed Pastor of the newly named Ilave parish in the Altiplano heavily populated by Aymara people, where he learned the Aymara language. Father Connell was very happy with work among the Aymara people and organized the parish very well, building a new rectory and repairing the ancient church building.
When Father Connell was home during a six-month furlough in 1958, he did some Development work in San Francisco. Upon his return to Puno he was appointed Assistant Pastor of the Huancane Parish for a short time and then in 1960 was appointed Local Superior and Director of the Maryknoll Society House in Lima, Peru. In Mid-1964 he was appointed Pastor of Ciudad de Dios Parish in the city of Lima.
On April 15, 1967, Father Connell returned to the United States for health reasons and during recuperation served for a year at Holy Redeemer Church in San Francisco. On May 25, 1968, he was assigned to the Development Department and appointed Assistant Director of the Development House in Seattle, Washington, where he served for eight years. On December 13, 1972 he suffered an illness from which he gradually recovered satisfactorily. On July 1, 1976, he was appointed Assistant Director of the San Francisco Development House and served in that position for the rest of his active ministry. In March 1993, he was appointed Acting Director of the House and on May 1, 1993 at 77 years of age, Father Connell became a member of the Special Society Unit with continued residence and limited work in the San Francisco House. It was no secret that he loved the San Francisco Bay area as it was his home. In January 1994, Father Connell moved to the Maryknoll Residence in Los Altos, California, where he lived until health problems necessitated his move to St. Teresa's Residence, Maryknoll, New York in May 1999. Father Connell possessed a good sense of humor and was a man of strong character.
Wake services were held on January 4, 2000 at 7:00 p.m.at St. Teresa's and at 7:30 p.m. at Queen of Apostles Chapel at Maryknoll Center where Father James Sinnott officiated and Brother Donald Miriani read the biography. Mass of Christian Burial was concelebrated at Queen of Apostles Chapel on January 5,2000 at 11:00 a.m. Father Charles Girnius was Principal Celebrant and Father Arthur Dwyer homilist. At the family's request, Father Connell's remains will be cremated and sent to Los Altos, California for burial. At his request, Father Edward Moore will be celebrant and homilist at a Mass of the Resurrection in Los Altos, the dates of which are yet to be determined.