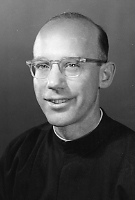 Father James C. Kalchthaler, MM
Born: November 2, 1925
Ordained: June 9, 1956
Died: June 24, 2007
Father James C. Kalchthaler died at St. Teresa's Residence, Maryknoll, New York on June 24, 2007. He was 81 years old and a Maryknoll priest for 51 years.
James Charles Kalchthaler was born on November 2, 1925, in Pittsburgh,Pennsylvania, son of John and Matilda Spohn Kalchthaler. He was the ninth of eleven children, six girls and five boys. One of his sisters became Sr. Mary Howard, a Franciscan nun, in Pittsburgh where she taught grade-school for many years. He attended Resurrection Parish grade school and then graduated from St. Justin High School in a neighboring parish. After serving in the Navy for two years and working for one, he entered Maryknoll in February 1947. He received a B.A. degree in Philosophy from Maryknoll College, Glen Ellyn, Illinois in 1951.
After ordination on June 9, 1956, at Maryknoll, New York, Father Kalchthaler was assigned to the Philippines where he studied the Tagalog language for a year and then worked in a parish for six months (two hours out of Manila by car). Father Kalchthaler then went with the first group of five Maryknollers to Davao in Mindanao, a large Island in the southern part of the Philippines. After only three months of language study, the Maryknollers went into the parishes. Father Kalchthaler worked for about 5 years in each of three large parishes, with about 65,000 Catholics in each parish, and as Chaplain in a large penal colony of 4,000 prisoners for a year and a half. It was enjoyable and fruitful work, and the Prelature there has since become two dioceses with almost all Filipino priests.
From July 1974 to June 1977, Father Kalchthaler worked in the Development Department of Maryknoll in the United States. After this assignment, and feeling that the Philippines should be striving to have its own priests, he was assigned to Jakarta, Indonesia in July 1977. Father Kalchthaler said: "Funny that in the Navy, I was in Indonesia and the Philippines, and as a priest, in the same places." In Indonesia he worked with Australian OMI priests for 14 years in a parish on the west side of Jakarta. The 40 parishes in Jakarta average about 200 adult converts a year. His work served 6,000 Catholics in 61 small neighborhood communities, and there were 13 boys in the seminary from his parish when he left Indonesia and went back to the Philippines in December of 1994. This reassignment was the result of Father Kalchthaler's not being able to obtain a visa to stay in Indonesia.
After a three-month language refresher course, Father Kalchthaler worked in a mountainous parish on the west side of Mindanao with about 30,000 Catholics and 40 villages or barrios. From June 1996 through May 2003 he served as Chaplain at Davao Doctors' Hospital. In 2004 he returned to Maryknoll, New York, and joined the Retirement Community in February 2005. Father Kalchthaler's fondest memories were of working with lay leadership, the formation of small Christian communities, Charismatic renewal, and the Cursillo movement adapted to the parish level.
Wake services were held at 4:30 p.m. on Wednesday, June 27, 2007 at St. Teresa's, and at 7:30 p.m. in Queen of Apostles Chapel at Maryknoll Center where Father David Kelly officiated and Father John King read the biography. Mass of Christian Burial was concelebrated in Queen of Apostles Chapel on Thursday, June 28, 2007 at 11:00 a.m. Father J. David Sullivan was Principal Celebrant and homilist. Burial followed in Maryknoll Society Cemetery with Father John Barth conducting the graveside service.