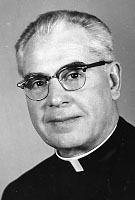 Father James E. Fitzgerald, MM
Born: February 16, 1903
Ordained: June 17, 1934
Died: June 24, 1993
Father James E. Fitzgerald died Thursday morning at 9:30 June 24, 1993 at Phelps Memorial Hospital. He was 90 years of age and a Maryknoll priest for 59 years.
James Edward was born on February 16, 1903, in East Boston, Massachusetts, son of William and Ella Hines Fitzgerald. He had one brother and one half-sister. He attended the public schools of Medford, Massachusetts and graduated from high school on February 6, 1920. He did office work in various local firms for about three years and became a member of "E" Company, 101st Engineers, Massachusetts National Guard. In February 1922 he made a week-end retreat at St. Gabriel's Monastery in Boston and, prompted by reading The Field Mar, he decided to become a missionary priest. He entered Maryknoll Apostolic College (Venard), Clarks Summit, Pennsylvania on September 13, 1923, and eleven years later was ordained a priest at Maryknoll Seminary, Ossining, New York on June 17, 1934.
Father Fitzgerald left the United States for the Maryknoll Mission Region in Kongmoon, Kwangsi, South China, in July 1934. After Cantonese language studies in Yeungkong, he was appointed Assistant Pastor of the Kochow mission. In 1938 he was transferred back to the Yeungkong mission. During World War II he was able to remain in the Kongmoon area, serving his parishioners and the U. S. military personnel who entered the area. After the war he became pastor of the isolated Lungwoh mission. He sent three local girls to the Kongmoon Convent and one boy to the seminary. He wrote some good articles for The Field Afar magazine.
When the Communists took over South China in 1950 Father Fitzgerald was restricted to his mission compound for six months and then was expelled from China on July 7, 1951. He had served a total of 16 years in the Kongmoon Mission. Upon his return home, he was assigned to the Detroit Development House on March 28, 1952, for a year. He was assigned to the Maryknoll Mission Region in Taiwan on April 27, 1953, but at his age the difficulty of learning a new language proved too much for him and on February 6, 1954 he was appointed Procurator of the Maryknoll Center House in Manila, Philippine Islands. He helped out at a U.S. Navy base on weekends.
On December 1,1956, he was transferred to the Maryknoll Mission Region in Hawaii. He served in various parishes for short periods replacing the pastors who were on vacation or home furlough. In July 1958 he was appointed 1st Assistant Pastor of St. Joseph Parish in Hilo, Hawaii, where for ten years he experienced much happiness, especially in teaching at the parish high school. He was an easy-going friendly priest who enjoyed entertaining teenagers and adults with fascinating stories. He gave good service when called upon and in each parish where he served the people genuinely liked him.
On May 26, 1969, he was transferred to the U. S. Region. At his request Maryknoll permitted him to serve as Assistant Pastor in Sacred Heart Parish, Watertown, Massachusetts, in order that he could be near his family in their need for about 5 years. On August 20, 1976, Father Fitzgerald was assigned to the Maryknoll Novitiate in Hingham, Massachusetts, where he remained until the novitiate was closed.
Father Fitzgerald was formally enrolled in the Special Society Unit on April 13, 1978 and moved to the Maryknoll Residence at Los Altos, California on November 1979. After the Loma Prieta earthquake in October 1989 severely damaged the Residence, Father Fitzgerald moved to St. Teresa's Residence at Maryknoll, New York.
Father Fitzgerald was a special person in the lives of his family members. He officiated at their weddings, counseled them in their need and loved to entertain them with his stories. His niece, Mrs. Rosemary Olson at whose wedding he officiated, recently said of him: "I have 7 children and 15 grandchildren and have been truly blessed. Uncle Jim has been a living symbol for us of dedication, truth and strength, and to be with him a total delight. We will all miss him. I shall miss him dreadfully."
Wake service: Sunday, June 27 at St. Teresa's Residence at 7:00 p.m. Concelebrated Mass of Christian burial, Monday, June 28 at St. Teresa's Residence at 11:30 a.m.