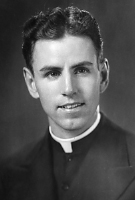 Father James E. Hughes, MM
Born: January 17, 1918
Ordained: June 11, 1944
Died: April 29, 1976
Father James Edward Hughes died on April 29, 1976 at the Maryknoll Residence, Los Altos, California.
Father Hughes was born in Woodside, L. I., New York, on January 17, 1918, the son of Patrick and Catherine Donnelly Hughes. He had one sister. After public school and high school studies at St. Agnes Academy, he joined Maryknoll in September 1935. He studied at the Venard, Bedford and Maryknoll, New York, and was ordained June 11, 1944. He spent three years on the missions from 1944-47 in Guatemala and Quintana Roo, Mexico. From 1947, he constantly suffered from ill health, living at Maryknoll, N. Y. and at Bedford in the 1950s, in Saint Louis from 1960-62, and at the Chesterfield Seminary from 1962-69. He was assigned to the Maryknoll Residence in Los Altos in May 1969.
Father Hughes was always a shy and retiring man, and after the three years of mission work, which he enjoyed, spent more than half of his life in the United States. He very much savored his time at the Maryknoll Residence in Los Altos, California, entertaining visitors and enjoying the beautiful climate and surroundings
A wake for Father Hughes was held on Friday, April 30, at the Maryknoll Residence at Los Altos. Mass of the Resurrection was concelebrated at 11 a. m. on Saturday, May 1, at the Los Altos Chapel. Burial followed in the Los Altos Maryknoll Cemetery. A Memorial Mass was concelebrated at the Maryknoll Center in New York on May 4, 1976.