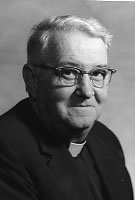 Father James E. McLaughlin, MM
Born: May 7, 1909
Ordained: June 16, 1940
Died: June 3, 1997
Father James E. McLaughlin died in the early afternoon of June 3, 1997 at St. Teresa's Residence, Maryknoll, New York. He was 88 years old and a Maryknoll priest for 57 years. James was born on May 7, 1909, in Chester, Pennsylvania, son of James McLaughlin and Ellen Murtagh McLaughlin, both from County Mayo, Ireland. He was educated in Immaculate Heart of Mary School in Chester, first through eighth grades. He worked for one year in Pure Oil Company of Marcus Hook.
In 1928 James applied to Maryknoll. He wrote in his autobiography for admissions that "during the last two years in school some of the Sisters often asked me if I ever thought of being a priest. This was the farthermost thing from my mind at the time, so I told them 'No.' Two Sisters however never gave up the idea even after I had left school and they would ask me about it whenever I visited them." James entered Maryknoll Apostolic College (Venard) on September 7, 1928. He spent five years at the Venard. In September 1933 he went to Maryknoll Seminary, New York, for two years of philosophy. On September 1, 1935 he entered Maryknoll Novitiate at Bedford, Massachusetts, and returned to Maryknoll Seminary, New York for theology. He was ordained a priest on June 16, 1940.
In the Spring of 1940 he was assigned to the Kaying Vicariate in South China. On September 9, 1940 Fr. McLaughlin entered language studies at the Stanley House in Hong Kong which lasted until July 1941. He was assigned to the Kaying area and to the La Fou mission. In 1942 he was assigned to Hing Ning with Fr. Frank Donnelly. In July of 1942 Fr. McLaughlin wrote a letter to his parents sharing about his mission work in China. "This is the third letter I have written since the war started. I preach every Sunday in Chinese. That is – I write the sermon out with help from my Chinese teacher… I can make myself understood at Mass and in the confessional…of course, there are some of the Chinese people ready to tell us how well we speak the language. Sometimes they do not even wait to hear us say more than one word [in Chinese] to spring the old flattery on us… your loving son, James." He remained there until November 1943 when he was assigned as pastor of the Chong Pu Ng Fa mission. He served there until June 1948 when he returned to the United States on home leave.
While on home leave in 1948, he served in the Development Department doing promotion Church dates in the Winona Diocese, Minnesota. There he lived at St. Mary's Hospital. He also worked out of the St. Louis House covering dates in parishes in the Archdiocese of Denver. In September 1949, he returned to the East coast to prepare for his return to China. He arrived in Hong Kong later that fall and took up residence at the Maryknoll Stanley House. From November, 1949, he worked in the Hong Kong Diocese as a quasi-pastor of the Yuen Long Mission in the New Territories until April of 1951.While Bishop Raymond A. Lane, Superior General, was on Visitation in Hong Kong, he assigned Fr. McLaughlin to the Hawaii Region.
He arrived in Honolulu April 28, 1951 and was assigned Assistant Pastor of St. John the Baptist Parish in Kalihi district of Honolulu. He stayed there until December 31, 1953 when he was transferred to St. Joseph Parish in Hilo, on the Island of Hawaii. While there he took care of the Keaukaha mission until he was appointed pastor of the new parish of St. Mary, Gate of Heaven Church (Malia Puka 0 Kalani). He remained in Keaukaha until July 6, 1956 when he went home on home leave. Upon his return to Hawaii at the end of August he was appointed Pastor of St. Theresa Parish, Mountain View, Hawaii. On Sunday, May 17, 1981, Fr. McLaughlin was honored by his parishioners for his 24 years of ministerial service among them. The Mayor of Hilo honored him with a Koa Bowl in appreciation of his years of service to the Senior Citizens of Hilo and Mountain View, Hawaii. Fr. McLaughlin also received a the Medal of the Order of Aaron and Hur from the Combined Chief of the United States Military Chaplains, Washington, D.C., for outstanding contributions to the spiritual welfare of the men and women of the United States Army.
Father McLaughlin retired from active Maryknoll assignment in June 1981 and moved to Maryknoll Residence in Los Altos, California. The Superior General wrote to Fr. McLaughlin at the time of his retirement and shared the following. "I would like to take this opportunity, Jim, to thank you very sincerely on behalf of all your brother Maryknollers, for the many years of dedicated service that you have given to Maryknoll's missionary work." In October 1989, he lived through the severe earthquake which seriously damaged the Residence. In January 1990, he transferred to St. Teresa's Residence at Maryknoll, New York.
Wake services were held at 7:00 p.m. on June 5, 1997 at St. Teresa's Residence Chapel, and at 7:30 p.m.at Queen of Apostles Chapel at Maryknoll Center with Father Michael Simone as Presider. Mass of Christian Burial was concelebrated at Queen of Apostles Chapel on June 6, 1997 at 11:00 a.m. Father William J. Galvin was Principal Celebrant and Father James Habenicht was Homilist. Burial followed at Maryknoll Center Cemetery with Brother Wayne J. Fitzpatrick conducting the graveside service.