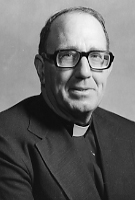 Father James F. Habenicht, MM
Born: May 6, 1923
Ordained: June 10, 1950
Died: February 28, 2000
Father James Habenicht died at St. Teresa's Residence early in the morning of February 28, 2000. He was 76 years old and a Maryknoll priest for almost 50 years.
James F. Habenicht, born in St. Louis, Missouri, was one of three sons of Walter and Loretta Glenn Habenicht. He attended Holy Innocents Grammar School and graduated from St. Louis University High School in June 1941. After high school graduation, he entered Maryknoll Junior Seminary (Venard), Clarks Summit, Pennsylvania, on August 1, 1941. September, 1945 he wrote "I had given everything up to God when I went away to Maryknoll and in large measure Maryknoll gave it back to me. I liked its intimacy of the faculty and students and of course the happy and generous spirit that pervaded everywhere and was exhibited by everyone." On June 10, 1950, he was ordained a priest at Maryknoll, New York.
Father Habenicht was assigned to Maryknoll's Mission Region in Japan, which was in post-war reconstruction, and he served there for 19 years. During his parents' visit to Kyoto, Japan, Father Habenicht had the great privilege of baptizing his own father. Before the visit, his father had prepared for Baptism. On the last day of his parents' trip, his father began to go to communion and his mother held him back saying "but you're not Catholic." He replied, "Yes, I am. Father Jim baptized me last night."
Finishing language school he was appointed assistant pastor in the Takano Mission, Kyoto and then as pastor of the Aodani Parish, a country parish south of Kyoto. When he returned from home furlough in 1965, he was appointed temporary Administrator of the Kujo parish and a year later, pastor of the new parish of Momoyama in the suburbs of Kyoto City. This assignment was short term as Father Habenicht had to return to the United States for medical treatment. During recuperation he served in St. Francis Xavier Mission in Los Angeles until January 31, 1969, when he was assigned to Development service in the Los Angeles area.
On September 10, 1973 he was assigned to Maryknoll's Mission in Hawaii. Father Habenicht worked in the Diocese of Honolulu, serving as Associate Pastor of St. John the Baptist Parish, and then Associate Pastor at Sacred Heart Parish in Honolulu. In July 1986, he was transferred to the U.S. Region and appointed Pastor of St. Francis Xavier Mission ('Little Tokyo') in Los Angeles. Father Habenicht remained in Los Angeles for four years and on February 15, 1991, was assigned to the Special Society Unit at Maryknoll Residence, Los Altos, California. In the assignment letter to the Special Society Unit the Superior General wrote "I do want to take this opportunity to express the gratitude of the Society for your many years of dedicated active service to Maryknoll and to mission. You served faithfully and well in our Region of Japan. I remember being a confrere with you in the Development Department. You served also in our Region in Hawaii and recently at the 'Little Tokyo' mission in Los Angeles. We are grateful to you for all your service."
Wake services were held on February 29, 2000 at 7:00 p.m. at St. Teresa's and at 7:30 p.m. at Queen of Apostles Chapel at Maryknoll Center where Father Joseph Nerino officiated. Mass of Christian Burial was concelebrated at Queen of Apostles Chapel on March 1, 2000 at 11:00 a.m. Father Francis Diffley was Principal Celebrant and Father George Ratermann homilist. The body was cremated and the ashes interred at Los Altos, California.