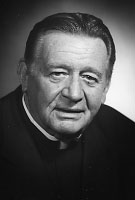 Father James H. Gorman, MM
Born: June 14, 1926
Ordained: June 14, 1952
Died: February 3, 2008
Father James H. Gorman died at St. Teresa's Residence, Maryknoll, New York, on February 3, 2008. He was 81 years old and a Maryknoll priest for 55 years.
James Henry Gorman was born on June 14, 1926, in Lynn, Massachusetts, son of Henry and Nellie Brennan Gorman. He had two brothers and one sister. He attended St. Joseph's Grammar School in Lynn and graduated from Lynn English High School in June 1943. He studied for six months at Boston College and then entered Maryknoll Apostolic College(Venard), Clarks Summit, Pennsylvania on February 22, 1944. He received his Bachelor of Arts degree in Philosophy degree in 1947 and was ordained a priest at Maryknoll Seminary, New York, on his birthday, June 14, 1952.
After ordination, Father Gorman was assigned to the Maryknoll Mission in Japan. He gained a good grasp of the language and customs during his first year of residence in the Maryknoll Center House in Tokyo. In June 1953, he was appointed assistant pastor in the Sonobe mission in the Kyoto Prefecture, and through his private study, became very competent in the Japanese language and a good preacher. In May 1954, he was transferred to St. Ann's Parish in Muroran, on the Island of Hokkaido. In 1957 he became pastor of Holy Family Catholic Church in East Muroran where he served for five years. On September 1, 1963 he was given a roving assignment in the new Catechetical Department of the Good Shepherd Movement, going from parish to parish running special campaigns and programs of catechetical activities, especially in the smaller country places. He continued in that work for one year. He began his home leave in November 1964 by traveling throughout Africa and Europe.
In June 1, 1965 he returned to Japan and became pastor of the new Nabari parish with residence in Ueno. Three years later in 1968, he was appointed pastor of the Catholic Parish in Kujo, in the Kyoto Diocese. In 1975 he was appointed First Assistant to the Regional Superior and assigned to administration work in the Region, one position that of serving as director of Maryknoll's Karasaki House. Father Gorman was elected Chapter Delegate for the Japan Region and attended the General Chapters at Maryknoll, New York in October, 1972 and 1978. He attended the Mission Renewal Program in Spring, 1979.
In April 1978, Father Gorman was assigned as pastor to the Yatomi Catholic Church in the Nagoya Diocese. Here he had been developing a Christian community in a non-traditional set-up, until he had to return to the United States in Spring 2005 and took up residence at Maryknoll, New York. Father was assigned to the Retirement Community in October 2006, and in March 2007, took up residence at St. Teresa's.
Father was a man of deep faith and was not afraid to die; in fact, he taught his fellow Maryknollers at St. Teresa's how to accept death.
Wake services were held at 4:30 p.m. on February 6, 2008 at St. Teresa's and at 7:30 p.m. in Queen of Apostles Chapel at Maryknoll Center where Father John J. Casey officiated and Brother Gordon Burns read the biography. Mass of Christian Burial was concelebrated in Queen of Apostles Chapel on February 7, 2008 at 11:00 a.m. Father Joseph McGahren was Principal Celebrant and Homilist. Burial followed in Maryknoll Society Cemetery with Father John Sivalon conducting the graveside service.