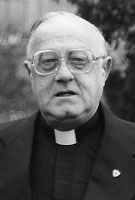 Father James J. DeFino, MM
Born: September 12, 1930
Ordained: June 14, 1958
Died: March 6, 1990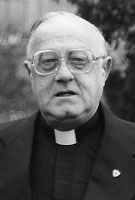 Born: September 12, 1930
Ordained: June 14, 1958
Died: March 6, 1990
Father James J. DeFino died at the Society House in Seoul, Korea on March 6, 1990. He was 59 years of age and a missioner for 32 years.
James Joseph was born in New York City on September 12, 1930, son of James DeFino and Edith Hopper. He had 2 half-sisters and one half-brother.His early education was in New York City. As a boy he was interested in the priesthood. He wrote: "I first thought of joining Maryknoll when a booklet entitled You Can Change the World" was given me by a friend who knew I was interested." In 1948 he entered the Venard. During his college years he was an advocate of Catholic Action, popular at that time. He was ordained at Maryknoll Center on June 14, 1958.
That same year he was assigned to Korea. He took an immediate liking to the Korean people. After language studies he became an assistant at Chung-Ju Oh Chon and 2 years later pastor of that parish. One Superior wrote of him that "he was a good missioner, completely wrapped up in his service, single-minded about his work and content to stay with them. He had a keen interest in native vocations and liked to visit the boys he sent to the seminary." Another superior wrote of him: "He has a great capacity for work and is aggressive. He should be in a position where he can initiate new, creative plans. He lacks a love for himself but shows exceptional warmth and consideration for others."
After changing to the Masan Diocese Father deFino took a sabbatical in 1981 with a trip to Africa, Rome and the Maryknoll Renewal Plan in the Holy Land. He concluded by attending the five weeks long East Asian Pastoral Institute in Manila. His views of the Church and mission were broadened and became future-oriented.
Returning to Korea he served as pastor in several parishes in the Masan Diocese. He was pastor of Chil Won Parish at the time of his death. In 1986 he expressed his hope to retire and die in Korea. His Regional Superior wrote: "He was fond of young people and sent many fine young men to the seminary.He was a guide to them and even after ordination he continued to be their director and friend. Jim was loved by us all and his sudden passing is a shock. Again God called one of our finest missioners. There is another empty place at table that no one else will be able to fill. His love for the Koreans and Maryknoll will remain an inspiration to us all."
Wake services were held in the Maryknoll Society House in Seoul. Concelebrated Mass was on the 8th; principal celebrant and homilist was Bishop Michael Pak of the Masan Diocese. Burial was in the Archdiocesan Cemetery in Jong-In, outside Seoul. At Maryknoll Center a memorial Mass was offered.