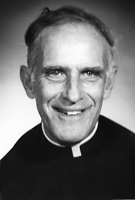 Father James J. Kuhn, MM
Born: September 2, 1924
Ordained: June 22, 1941
Died: August 30, 2007
Father James Kuhn died on August 30, 2007 at Phelps Memorial Hospital, Sleepy Hollow, New York. He was 82 years old and a Maryknoll priest for 56 years.
James Joseph Kuhn was born in Philadelphia, Pennsylvania on September 2, 1924, son of Joseph F. Kuhn and Marcella Johnston. He had three brothers and three sisters. He attended Holy Family Parochial School and graduated from Roman Catholic High School in Philadelphia. He entered Maryknoll Junior Seminary (Venard), Clarks Summit, Pennsylvania on August 1, 1942 and received his Bachelor of Arts degree in Theology from Maryknoll Seminary, New York, on September 15, 1950. He was ordained a priest at Maryknoll Seminary on June 9, 1951.
Father Kuhn had a varied, rich mission history. After ordination Father Kuhn was assigned to the St. Louis Development House, and a year later on September 8, 1952 was assigned to Maryknoll's mission in Musoma, Tanzania, East Africa. 'Zip', as he was popularly called, was assigned to work among the Luo people in the North Mara District. He learned the language well and became very close to, and much loved by, the Luo people. After Independence in 1961, he studied the national language, Kiswahili. A very dedicated, hard worker, he enjoyed the frequent safari journeys out in the rural areas with the people. During home leave in December 1969 he studied pastoral counseling courses at the Connecticut Valley Hospital until September 1970 when he returned to Musoma.
In February 1977, Father Kuhn was assigned to Maryknoll's mission work in Hawaii, where he served until October 30, 1980 on the Island of Molokai. He also was particularly effective in marriage encounter and charismatic group work. On November 1, 1980 he returned to Africa and worked in the newly created Maryknoll Unit in Zambia, East Africa until February 1984. When the Unit was closed, Father Kuhn was assigned to the Kenya Region, and worked in Bura Bura parish. When that parish closed in 1992, he moved to St. Patrick's Parish in Kilifi where he continued his active pastoral ministry. In 1998, due to ill heath, Father Kuhn returned to Maryknoll, New York where he remained until 2001, when he returned to Africa. At this time, he began work in Dar es Salaam, Tanzania. However in 2002 his health necessitated his return to Maryknoll, New York with residence at St. Teresa's. In September 2002, he was assigned to the United States Retirement Community.
Wake services were held at 4:30 p.m. on September 4, 2007 at St. Teresa's and at 7:30 p.m. in Queen of Apostles Chapel at Maryknoll Center where Father Leo Kennedy officiated and Father J. Ernest Brunelle read the biography. Mass of Christian Burial was concelebrated in Queen of Apostles Chapel on September 5, 2007 at 11:00 a.m. Father Maurice Zerr was Principal Celebrant and homilist. Burial followed in Maryknoll Society Cemetery with Father John McAuley conducting the graveside service.