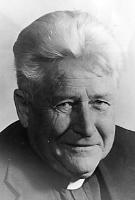 Father James J. Logue, MM
Born: July 30, 1913
Ordained: June 22, 1941
Died: October 7, 1981
Father James J. Logue died on October 7, 1981 at St. Teresa's.
James Jordan Logue was born on July 30, 1913 in New York City, the son of James J. Logue and Anna Brennan. In his younger years Jim attended Holy Spirit and St. Barnabas parochial schools, graduating from the latter at the age of twelve. Even as early as that James had decided to become a Maryknoll Missioner, following the example of two aunts (Sisters Luke and Trinita), both Maryknoll Sisters. However, his parents decided to keep their twelve-year old close to home for a few more years. Close to home meant two years at St. Barnabas High School and then a transfer to Cathedral Prep.  Jim went to work at the Carl Zeiss Company for a while but eventually returned to Cathedral High and was graduated. The great depression was at its worst, so he had to work during the day and attend C.C.N.Y. at night.
A chance visit to a friend at St. Francis Hospital resulted in meeting Fr. Leo Tibesar of Maryknoll. Without further delay Jim went to Maryknoll, had a personal interview with Bishop James A. Walsh and, in September, 1933, entered the Venard in Clarks Summit, Pennsylvania.
Throughout his years in the seminary Jim Logue was a good student. Consistently the Faculty referred to him as generous, humble, affable and of sound judgment. There seemed to be two Jim Logues: a pleasant, Jocular man who expressed himself in many humorous poems and writings, reminiscent of Damon Runyon; and a deep, intelligent, serious missioner, with great insight and even prophetic vision. Ordained in 1941, on June 22nd by Cardinal Spellman, Jim was assigned for his first year to Development. He was not particularly happy with this assignment, after so many years of preparation for a mission career, so within a year he asked for a mission assignment and became one of 20 priests sent to the newly opened mission in Latin America. His first parish in Bolivia was in Guayaramerin, a small town on the Mamore River just across the border from Brazil at the headwaters of the Amazon. Despite his simple Spanish, Father James quickly made friends. He lived in a rented house until he could build a church and rectory, and ate with army personnel. Three years later he left Guayaramerin with a church and rectory built, and was sent to El Sena, a small village on the Madre de Dios River. A few years later he went to Riberalta to begin an agricultural project. On his furlough in 1948 he took a special course at Southwestern Institute of Agriculture in Louisiana — the purpose being, in connection with this project, to improve the diet of the people. Jim was very much ahead of his time. He laid the ground- work; others took over as he moved to other things.
Wherever Father Jim was, there was a spirit of pleasantness. The Bolivian soldiers were grateful for Padre James' teaching arid personal attention while he was chaplain for the Bolivian Army. The public school children of the Pando Vicariate were always happy when he came for class, and the Maryknollers appreciated his performance as Consultor to the Society Superior for two terms.
Father Jim came to the U.S. in 1974 on sick leave, but returned to Bolivia. In 1977 he was permanently assigned to Maryknoll and received medical treatment that allowed him to remain active. The following year he was named Archivist at Maryknoll Center. 'Uncle Jim' became his nickname in later life because he resembled a favorite uncle of some of his confreres. Most of us knew him as a breezy, open, humorous man, with kindness underlying the exterior. A fairly recent T.V. interview Fr. Paul Newpower had with Fr. Logue opened the eyes of many to his humor and 'one-liners'.
On October 8th a Wake Service was held, led by Fr. Leo Sommer. Mass of the Resurrection was on the following morning with Fr. James Ryan, a cousin of Jim's, as main Celebrant, and Fr. Peter Ryan, also a cousin, and Fr. John Cioppa. Homilist was Fr. Larry Burns. Burial followed in the Maryknoll Cemetery, with service led by Father Ambrose Graham.
There was yet another Father Jim Logue — the Maryknoll Missioner, grateful to God for his vocation, a well-read priest and a deep thinker whose lesser-known writings reveal a humble but searching desire to bring Christ's message to all peoples. From the early age of twelve, Father Jim had the deep desire to be a missioner and his whole life proved that he indeed carried out Christ's command to "Go and teach all nations".