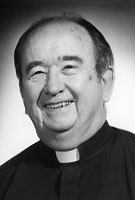 Father James J. McFadden, MM
Born: June 9, 1930
Ordained: June 10, 1961
Died: December 3, 2002
Father James J. McFadden died suddenly on Tuesday, December 3, 2002 at St. Teresa's Residence, Maryknoll, New York. He was 72 years old and a Maryknoll Priest for 41 years.
James Joseph McFadden was born to Harvey McFadden and Margaret McCormick on June 9, 1930 in Philadelphia, Pennsylvania. He grew up in Philadelphia with four sisters and one brother. He graduated from St. Gregory's Elementary School (1944) and St. Thomas More High School (1948), both in West Philadelphia.
After high school he worked at various jobs and was working in a textile mill when he contacted Maryknoll about his desire to be a Missioner. He was visited by Father Richard Ham and a few months later, on September 12, 1951, entered Maryknoll Junior Seminary (Venard) in Clarks Summit, Pennsylvania. He graduated from Maryknoll College in Glen Ellyn, Illinois in 1956 with a Bachelor of Arts Degree. His Novitiate year was in Bedford, Massachusetts and after studying at Maryknoll, New York, Father McFadden was ordained a Maryknoll priest on June 10, 1961.
Following ordination Father McFadden was assigned to the Maryknoll Mission Region of Peru. After three months in Language School in Cochabamba, Bolivia, he was sent to the town of Azangaro, in the Altiplano of Peru, where he worked for six years among the Quechua Indians. Most of the people spoke Spanish in the public areas and Quechua in their homes. In May of 1969 he was assigned to the United States. He worked in several parishes as an assistant until July 1972, when he was assigned to the Maryknoll Seminary in Hingham, Massachusetts, where he worked in the Business Office.
On January 1, 1974 Father McFadden was assigned to the Maryknoll Mission Region of Hawaii, where he continued to work, chiefly in the Hispanic Ministry at St. John the Baptist Church in Kalihi, where the parishioners came mostly from Mexico, but also from Central and South America and Spain. He enjoyed this ministry and continued in it until October 2002 when he returned to Maryknoll, New York for medical treatment.
Father McFadden was known in his family as "Singing Sam, the Happy-Go-Lucky Man," even if it was off-key. He also loved to sing and dance, and, like his father, he enjoyed playing poker, pinochle and the horses — he was a family-oriented man.
Wake services were held at 4:30 p.m. on Sunday, December 8, 2002 at St. Teresa's, with Father Thomas A. Ahearn and Brother Charles S. O'Neil officiating, and at 7:30 p.m. in Queen of Apostles Chapel at Maryknoll Center where Father Richard S.Czajkowski officiated and Brother Donald R. Miriani read the biography. Mass of Christian Burial was concelebrated in Queen of Apostles Chapel on Monday, December 9, 2002 at 11:00 a.m. Father Robert J. Reiley was Principal Celebrant and Father Arthur J. Dwyer homilist. Burial followed in Maryknoll Society Cemetery with Father John C. Barth conducting the graveside service.