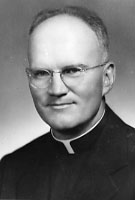 Father James J. Morgan, MM
Born: July 24, 1911
Ordained: June 11, 1939
Died: December 10, 1960
James J. Morgan was born on July 24, 1911 in Philadelphia, Pennsylvania. He attended St. Charles Borromeo Parochial School and High School. In September of 1928 he entered the Venard. In March of 1936, while at the major seminary he was found to be suffering from tuberculosis and was sent to the Glockner Sanatorium in Colorado Springs for treatment. He was released from the hospital in August, 1937 but had to spend a year at home to be certain of a full recovery. He returned to the seminary in 1938 and was ordained June 11, 1939.
His first assignment was to promotion work at the Venard. In 1940 he was appointed chaplain at Glockner Sanitorium. In 1941, when the Archbishop of Santa Fe asked for help, Father Morgan was assigned there and was assistant at the parish in Taos until November, 1942 when he was appointed chaplain at St. Catherine's Indian School in Santa Fe. In July of 1943 he was assigned to Hawaii where he served faithfully in various parishes for the next seventeen years.
He came home from Hawaii in September, 1960 for a three-month furlough and was due to return shortly after Christmas. Solemn Requiem Mass and burial took place at Maryknoll on Tuesday, December 12, 1960.