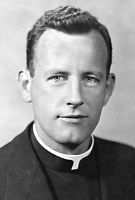 Father James L. Lenihan, MM
Born: November 30, 1924
Ordained: June 11, 1955
Died: October 2, 1998
Father James Lenihan died on Friday evening, October 2, 1998 at St. Teresa's Residence. He was 73 years old and a Maryknoll priest for 43 years.
James was born November 30, 1924, in East Rockaway, New York, the son of Bernard F. and Irene Colligan Lenihan. He is the sixth of nine children. He attended St. Raymond's grade school in East Rockaway and graduated from Chaminade High School, in Mineola, New York, in January 1943. In March, he entered the United States Merchant Marine at Kings Point, New York, as a Deck Cadet. Upon graduating, he sailed as a Deck Officer until the summer of 1946. One of his ports of call was Dar Es Salaam where, at the time, he had no way of knowing that he would return ten years later as a Maryknoll Missioner. He received a B.S. degree from the Academy and beginning in September 1946 attended Mount St. Mary's College, Emmitsburg, Maryland for two years. Father Lenihan was accepted into Maryknoll in September 1948 and was ordained at Maryknoll, New York, on June 11, 1955.
Following ordination, Father Lenihan and many of his classmates were assigned to what later became the Diocese of Shinyanga, Tanganyika. All Father Lenihan's years in Africa were spent in that same diocese working with the Basukuma Tribe. Under the Most Rev. Edward McGurkin, M.M., first Bishop of Shinyanga, Tanzania, he founded the parishes of Mipa and Salawe. In 1976, he was assigned to the Development Department for work in the Long Island, New York, area. He returned to Tanzania in 1978 and in 1984 was elected as Assistant Regional Superior.
In that same year, he was requested by the Tanzania Episcopal Conference to found and direct a Chemical Dependency treatment program for Tanzanian clergy, which he did for a period of three years. This program was located at the Parish of Wira. In 1987, he was assigned to the U.S. Region as Chemical Dependency minister under the Office of Society Personnel. In this capacity he designed and conducted workshops on chemical dependency for Maryknollers both in the United States and in overseas. At the same time he was named to a three-year term as Chairperson of the Employee Assistance Program at Maryknoll, New York, a Society program that assists employees and their family members through difficult times. In August 1991, Father Lenihan was appointed the first Vicar for the Special Society Unit, a position created by the Society's Ninth General Chapter. Together with the General Council he worked out the concrete details and responsibilities of the position. Upon completion of his three-year term as Vicar, he requested and was granted assignment to the Special Society Unit and took up residence in Boynton Beach, Florida. In 1995 his classmate, Bishop Quinn Weitzel, M.M. requested that Father Lenihan join him in Samoa. Three years later, in March 1998, Father Lenihan returned to the United States due to ill health and took up residence at St. Teresa's Residence, where he remained until his death.
In all of his assignments, Father Lenihan was consistently praised by his Superiors as a dedicated Maryknoller intensely concerned with his obligations to the people with whom he was working, whether they were members of his parish or fellow Society members. When he was assigned to the United States Region in 1987, his Regional Superior wrote to the United States Superior: "You will soon be receiving one of our best, Jim Lenihan. He is open to do whatever work you would like him to do. I know you will find Jim a fine person to work with. He has been a good missioner, a good priest and a tremendous help to me, personally, as Assistant Regional Superior. I know he will also make a great contribution to the U.S. Region."
Wake services were held at 7:00 p.m. on October 4,1998 at St. Teresa's Residence Chapel and at 7:30 p.m. at Queen of Apostles Chapel at Maryknoll Center where Fr. Donald Donovan officiated and Bro. Kevin Dargan read the biography. Mass of Christian Burial was concelebrated at Queen of Apostles Chapel on October 5,1998 at 11:00 a.m. Father Thomas Keefe was Principal Celebrant and Father Thomas McDonnell, homilist. Burial followed at Maryknoll Center Cemetery with Fr. Jeremiah Burr conducting the graveside service.