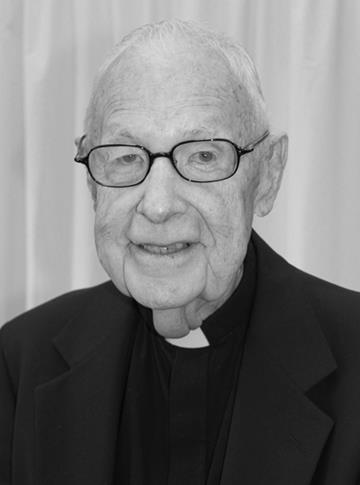 Father James M. Gilligan, MM
Born: January 15, 1928
Ordained: June 11, 1955
Died: May 17, 2015
Father James M. Gilligan died on May 17, 2015 at Phelps Memorial Hospital, Sleepy Hollow, New York. He was 87 years old and a Maryknoll priest for 59 years.
James Mark Gilligan was born in Brooklyn, New York, on January 15, 1928, the son of James and Mary Gass Gilligan. He attended P.S. 193 and graduated in 1945 from St. John's Preparatory School in Brooklyn, run by the Vincentian Fathers. After receiving a Bachelor of Arts and Master of Religious Education degrees from Maryknoll School of Theology, he was ordained on June 11, 1955.
After ordination, Father Gilligan was assigned to Korea. He was sent to study the Korean language at Yale University because there were no language institutes in war-torn Korea at that time. After arriving in Korea by liberty ship in August of 1956, he was assigned to the Cheong-ju Vicariate, a part of the Seoul Archdiocese. He served a year as an assistant to Fathers John Coffey and Wilbur Borer, two veteran Maryknoll missioners. After a year, Father Gilligan was assigned to build a new mission in Ju Tek. Five years later the Christian community had grown from 500 to 2,000, with a new church, rectory, and five mission stations.
Father Gilligan was looking forward to Home Leave in 1962, after six years in mission. At that time, Maryknoll and Bishop Pardy asked him to study Canon Law in Rome. With more and more Koreans seeking Baptism, many with marriage problems, the Bishop foresaw the need for a priest trained to cope with these issues. Father Gilligan obtained a Licentiate of Canon Law from St. Thomas University in Rome and returned to the Cheong-ju Diocese to serve as Chancellor and pastor of Sacred Heart mission and Vice-Officialis of the Tae Gu Regional Tribunal. In 1964, to assist in his marriage work, he became a member of the Canon Law Society of America. The parish in Cheong-ju grew each year by one to two hundred converts. Many of the Catholics were struggling to make a decent living. Father Gilligan established a Credit Union in the parish and later became advisor to the Credit Union League in the province, holding seminars and training courses for Credit Union leaders throughout the Diocese.
After 18 years in the Cheong-ju Diocese, Father Gilligan was assigned to the Diocese of Pusan in 1974 to establish a new parish in So-Dong, a refugee area of 120,000 people. After living in a rented Korean house for a year, he built a rectory, a convent for Sisters, a church and a kindergarten. In 1974, to assist the Pre-Cana work in the Diocese, Father Gilligan wrote a text in Korean called Christian Marriage, which sold over 10,000 copies. He also established the parish Credit Union, which is still flourishing. He continued to serve the Tae-Gu Regional Tribunal, became a Pusan Diocesan consultor and a member of the Maryknoll Regional Council in 1978. The So-Dong Parish was turned over to a Korean Diocesan priest in 1984, and from 1985 through 1990 Father Gilligan served as pastor of the Ku Bong Parish in central Pusan. In 1988 he founded the Pusan Diocesan Tribunal and was appointed as the first Judicial Vicar of the Diocese, a position that he held until 1999. Father considered his Tribunal work missionary in that it allowed him to bring many families back into full communion with the Christian community.
In 1989 Father Gilligan was elected to serve as the Korea delegate to the Ninth General Chapter of Maryknoll. In 1990 he left the Ku Bong Parish to become Chaplain and Director of Pastoral Care at St. Benedict's Hospital in central Pusan. While serving on the Korea Regional Council, in 1996, Father was again elected as the Korea Delegate to the Tenth General Chapter in Hong Kong.
In March 1999 Father Gilligan retired and resided in the Maryknoll Seoul Center House. From there he helped out in neighboring parishes, did consulting work for the Korean Foreign Mission Society in Canon Law, and handled special cases sent to Rome for the Diocese of Pusan. In reflecting upon his missionary career, Father stated, "to be a Maryknoll priest in mission in Korea for the last fifty years, to witness the growth and vitality of the Korean Church, has been the greatest joy and saving grace of my life."
In September 2007 Father Gilligan was assigned to the Retirement Community (now Senior Missioner Community) with residence at Maryknoll, New York where he worked part-time in the Office of Society Personnel. He officially retired in January 2014 and moved to St. Teresa's Residence shortly before his passing.
A Rosary and wake service was held at 4:00 p.m. on May 19, 2015 at St. Teresa's. The body was received at the Maryknoll Society Center at 9:30 a.m. on May 20, 2015. Father Gilligan's family received condolences and prayers until 10:45 a.m. in the Lady Chapel. The biography was read by Father Michael Duggan. Mass of Christian Burial followed at 11:00 a.m. and was concelebrated in Queen of Apostles Chapel. Father Michael Zunno was Principal Celebrant and Father Leslie Blowers homilist. Burial followed in Maryknoll Society Cemetery with Father Joseph Everson conducting the graveside service.