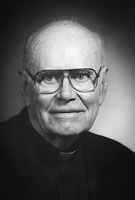 Father James M. O'Brien, MM   
Born: May 24, 1921
Ordained: June 11, 1949
Died: April 27, 2006
Father James M. O'Brien died on April 27, 2006 at St. Teresa's Residence, Maryknoll, New York. He was 84 years old and a Maryknoll priest for 56 years.
James Michael O'Brien, one of four children, was born on May 24, 1921, in Cambridge, Massachusetts, son of Patrick and Nora Healy O'Brien. While he was still very young his family moved to Belmont, where James attended the J. S. Kendall School and graduated from Belmont High School in 1939. He attended Boston College for two years, and entered Maryknoll Apostolic College (Venard), Clarks Summit, Pennsylvania, on August 1, 1941. He was ordained at Maryknoll, New York, on June 11, 1949.
After ordination Father O'Brien was assigned to the Maryknoll Mission in Wuchow, South China, but due to the Communist control of China his assignment was changed to Maryknoll's Region in Peru, South America. After language school in Arequipa, Peru, his first assignment was to San Juan Bautista Parish in Puno. He studied the Quechua language and served among the Quechua people in Assumption parish in the Diocese of Puno in Azangaro, working with the movement of local leaders who became catechists. During a furlough in 1956, Father O'Brien studied cooperatives and credit unions in Nova Scotia. Upon his return to Puno he was named as Vicar General and Pastor in the Prelature of Juli, where he took some language courses that enabled him to work among the Aymara Indians in the Juli Prelature. In 1967 he was transferred to Santa Rosa Parish, Lima, Peru.
In 1968, Father O'Brien was assigned to the U.S. and to the Development Department. He spent the next six years working in Los Angeles, Arizona and Boston. He returned to Lima, Peru in 1974 to the City of God parish. He was then assigned to a section of Lima in Pamplona Alta, called San Francisco, where he was able to get the Church of San Francisco built. Subsequently a second church was built, this one named Holy Family.
In 1981 Father O'Brien took the Theological Renewal Course at the North American College in Rome, Italy, and then returned to his parish in Pamplona Alta, Peru.
Father O'Brien formally retired in March 1993, though he remained active as Pastoral Vicar in the parish church of San Francisco de la Cruz working in the family catechetical programs in the community as well as running the Center House, welcoming visitors, supervising the staff and overseeing maintenance of the grounds. He was a truly exceptional missionary pastor: a lover of good food, his people and…. life. He had a gift for remembering names and maintaining friendships. He was the 'abuelito' (grand dad) of the people and, when he retired, the people gave him a painting of Jesus holding a lamb in his arms. They wanted him to know that he was their good shepherd, and that he was.
Father O'Brien returned to the U.S. in April 2002, and was assigned to the Retirement Community, with residence in Los Altos, California, in May of that year. In July 2002 he relocated to Mission St. Teresa. Father O'Brien always had a twinkle in his eyes. This was seen as an outward expression of the internal peace he had with the Lord, and it made him affable and congenial to all, especially the poor.
Wake services were held at 4:30 p.m. on May 1, 2006 at St. Teresa's, with Father J. David Sullivan officiating, and at 7:30 p.m. in Queen of Apostles Chapel at Maryknoll Center where Father Carmen La Mazza officiated and Father William D. McCarthy read the biography. Mass of Christian Burial was concelebrated in Queen of Apostles Chapel on May 2, 2006 at 11:00 a.m. Father Bernard 'Pete' Byrne was Principal Celebrant and homilist. Burial followed in Maryknoll Society Cemetery with Father John McAuley conducting the graveside service.