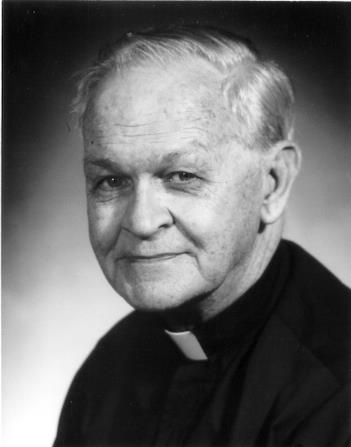 Father James M. Scanlon, MM
Born: April 11, 1926
Ordained: June 14, 1952
Died: November 19, 2015
Father James M. Scanlon died at Phelps Memorial Hospital, Sleepy Hollow, New York on November 19, 2015. He was 89 years old and a Maryknoll priest for 63 years.
James Martin Scanlon was born on April 11, 1926 in South Boston, Massachusetts, one of nine children born to Dennis and Bridget Martin Scanlon. He attended St. Augustine Parochial School and graduated from Gate of Heaven High School in June, 1943. He entered Maryknoll Apostolic College, (Venard), Clarks Summit, Pennsylvania on September 3, 1943. He received his Bachelor of Arts degree in Philosophy and his Master of Religious Education at Maryknoll Seminary, New York and was ordained a priest on June 14, 1952.
After ordination, Father Scanlon served in promotion work in Brookline, Massachusetts for six months and then departed for his foreign mission assignment to Guatemala, where he entered the country as a student because of the political situation. After six months of language and cultural studies, he served first as Assistant Pastor in San Miguel Acatán Parish in Huehuetenango and then was appointed Pastor in 1954. In 1957 he became Pastor of the busy Jacaltenango Parish which gave him opportunities to exercise his fine zeal and excellent capacity for administration and organization. It was then that he founded, drew up the plans and started to build a fifty-bed hospital, which was finished by the late Sister Rose Cordis, a Maryknoll Sister and Medical Doctor.
On February 17, 1961 he was transferred as Pastor to Santa Barbara Parish in Santa Ana, El Salvador, a city parish with Ladino people. Together with two other Maryknollers, he started the mission work of Maryknoll in that country. In 1963 he returned to San Sebastian Parish in Coatán, Huehuetenango as Pastor where his ministry was once again with the Indians. He restored the old church and set up an excellent group of catechists and he established a credit union among the people. On March 11, 1967 Father Scanlon was re-appointed Pastor of San Miguel Acatán Parish in Huehuetenango. From August 15, 1973 until January 20, 1980 he served as Pastor of the Aguacatán Parish, also in Huehuetenango,
After 27 years, he left his beloved Huehuetenango and was assigned to San Francisco de Asis Parish outside of Guatemala City in a place called Mixco. There was neither a church nor a rectory. After six years, with four churches built and two parish compounds, and with an increase in the Church-going population, the parish was divided, and Father Scanlon was assigned to the poorer section of the parish on January 1, 1986. He served as Pastor of the Parish of Santa Maria, Auxílio de los Cristianos in the Colónia Carolíngia, Zona 19, Guatemala (part of Mixco). Father Scanlon remained in Guatemala until March 1995 when he returned to the United States and took up residence at Maryknoll Center. He was assigned to the Special Society Unit on April 1, 1996 and to the Senior Missioner Community in January 2001.
Father Scanlon spent a great deal of time at St. Teresa's Residence both visiting the residents and shopping for them. Unfortunately, Father Scanlon suffered a serious stroke while visiting Guatemala in November 2001. At that time he moved to St. Teresa's Residence where he resided at the time of his death.
A Rosary and wake service was held at 4:00 p.m. on Thursday, December 17, 2015 at St. Teresa's. The body was received at the Maryknoll Society Center at 9:30 a.m. on Friday, December 18, 2015. Father Scanlon's family received condolences and prayers until 10:45 a.m. in the Lady Chapel. The biography was read by Father Richard Callahan. Mass of Christian Burial followed at 11:00 a.m. and was concelebrated in Queen of Apostles Chapel. Father Joseph La Mar was Principal Celebrant and Father Edward Moore was homilist. Burial followed in Maryknoll Society Cemetery with Father Raymond Finch conducting the graveside service.