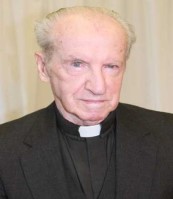 Father James P. Colligan, MM
Born: October 2, 1928
Ordained: June 11, 1955
Died: January 31, 2019
Father James P. Colligan, M.M died on January 31, 2019 at the Vincentian Home in Pittsburgh, Pennsylvania. He was 90 years old and a Maryknoll priest for 63 years.
James Paul Colligan was born October 2, 1928 in Pittsburgh, Pennsylvania, the first of seven children of Paul and Beatrice Flynn Colligan. He attended St. Mary's Grade School and graduated from Central Catholic High School in Pittsburgh in 1946. After two years at Duquesne University, he entered Maryknoll in September 1948. Seminary studies earned him a Bachelor of Arts degree in Philosophy and a Master's degree in Religious Education from the State of New York.
After ordination on June 11, 1955, Father Colligan was assigned to Japan. Language study and parish assignments in Sapporo and Kyoto Dioceses occupied his early years there, including a four-year assignment as pastor and kindergarten principal in the coal mining town of Mikasa in Hokkaido, and instructor in English Literature at the Iwamizawa Division of Hokkaido University. Meanwhile, he provided articles and photos of Japan to church publications abroad.
Assigned in 1966 to full-time writing and photography, he spent three semesters at Syracuse University's Newhouse School to earn a Master's Degree in Journalism. Returning to Japan in 1968, Father Colligan accepted a short-term assignment with the public information office of the Japan Bishops' Conference, then obtained Japanese Government accreditation as correspondent of the U.S. Bishops' News Service in Washington, DC called NC News (National Catholic) at that time. A year as Tokyo Bureau Chief for the nascent Union of Catholic Asian News (UCAN) interrupted, before resumption of affiliation with the U.S. Bishops' agency, now called Catholic News Service (CNS). He was three times elected chairman of Foreign Press in Japan (FPIJ), the organization representing foreign media interests, especially in news-gathering negotiations with Japanese public and private agencies.
For a decade, he contributed a regular column on Catholic activities in Japan for the Protestant publication, Japan Christian Quarterly. He was co-editor and contributor to their book Christianity in Japan, 1971-1990 and translated for publication the Sophia University Survey, The Image of Christianity in Japan. For Maryknoll he provided editorial materials on Asia. He researched and compiled a history of the Society's long presence among ethnic Japanese. He served as delegate to its Eighth General Chapter in 1984.
Membership in professional organizations include the Catholic Press Association of the United States and Canada (CPA), the Overseas Press Club (OPC) in New York City, and the Foreign Correspondents Club of Japan (FCCJ) in Tokyo, which awarded him life membership in 1994 for his professional contributions.
In 1997, after forty years of mission in Japan, Father Colligan was offered an assignment to China, but chose instead to be assigned to the United States Region. He took up residence in Los Angeles, California and was invited to assist in Pico Rivera parish, a suburb of Los Angeles. For three years he drove there on weekends and offered Mass in English. Following Pico Rivera Father assisted at St. Francis Xavier Parish and its Japanese Catholic Mission in liturgical and sacramental functions, occasionally helping at the Archdiocesan Our Lady of the Angels Cathedral. He joined the Cathedral parishioners in a trip to the Vatican for conferring of the pallium on the new Archbishop Jose Gomez, when Cardinal Roger Mahony retired from the post. He also served at the main location of the Los Angeles Public Library for twelve years as a docent.
On September 2, 2003, he was assigned to Maryknoll's Senior Missioner Community but continued his residence in Los Angeles until September 2012, when he returned to Maryknoll, New York. In 2014, Father Colligan moved to Pittsburgh, Pennsylvania to be closer to his family.
A wake service was held on February 3, 2019 at the McCabe Brothers Funeral Home in Pittsburgh. Mass of Christian Burial was celebrated in St. Paul Cathedral on February 4, 2019 in Pittsburgh. Interment was private at Plum Creek Cemetery, Pittsburgh, Pennsylvania.
A Memorial Mass was concelebrated in the Holy Spirit Chapel on March 1, 2019 at 11:15 a.m. Father Kevin Hanlon was Principal Celebrant and homilist and Father John Felago read the biography.