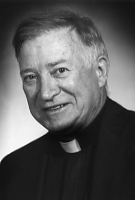 Father James P. Lacoste, MM
Born: September 3, 1929
Ordained: June 9, 1956
Died: October 27, 2009
Father James P. LaCoste died in El Camino Hospital, Mountain View, California on October 27, 2009. He was 80 years old and a Maryknoll priest for 53 years.
James Paul LaCoste was born in Detroit, Michigan on September 3, 1929, the son of Charles and Catherine McLaughlin LaCoste. The family moved to Tulsa, Oklahoma in 1936. He attended Immaculate Conception Grammar School and Holy Family High School before entering Maryknoll in September 1945, residing first at the Development House in St. Louis, Missouri while attending classes at Kendrick Junior Seminary in Webster Groves, Missouri. He received a Bachelor of Arts degree in Philosophy in 1951, a Bachelor of Sacred Theology degree in 1955, and a Master of Religious Education degree in 1956.
Father LaCoste was ordained on June 9, 1956 at Maryknoll, New York and was assigned that same year to the Central American Region and Guatemala. During the 1960s he served as pastor of Cuilco parish in the mountains of western Guatemala, visiting each of the 19 villages of the parish every two months to celebrate Mass and instruct his parishioners in the faith. He also trained lay catechists, rejuvenated the ailing parish credit union, and supervised the rebuilding of the Cuilco Church, which had been partially destroyed by a 1960 earthquake.
From July 1975 to September 1978 Father LaCoste was assigned to the Development Department, working for six months in Buffalo, New York before being transferred to Houston, Texas where he worked for the duration of his assignment.
Returning to Central America in 1978, Father LaCoste was assigned first to San Marcos in Guatemala, and in 1982 he was assigned to Limon, Costa Rica, where he helped build up small Christian communities on the outskirts of the city. He returned to Guatemala in 1985, working there until 2003 when due to illness he returned to the United States. He joined the Retirement Community in March 2004 and moved to Los Altos, California.
Jim had a distinctive laugh. For example, while watching a movie in Guatemala City, when all was silent, you would hear that laugh, and you knew Jim was there.
Wake services were held at Los Altos Residence, California on October 29, 2009 at 7:00 P.M, with Father Robert Carleton officiating. Mass of Christian Burial was concelebrated at the Chapel at Los Altos Residence, California on October 30,2009 at 11:00 A.M. Father Bernard (Pete) Byrne was Principal Celebrant and homilist. Burial followed in Maryknoll Society Cemetery in Los Altos with Father William Boteler conducting the graveside service. A memorial Mass was also celebrated at Our Lady Queen of Apostles Chapel, Maryknoll, New York on November 2, 2009 at 11:00 AM.