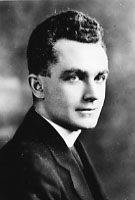 Father James P. McClarnon, MM
Born: June 14, 1908
Ordained: June 16, 1935
Died: November 8, 1951
James P. McClarnon was born in Philadelphia on June 14, 1908. His father and mother had come to this country from Ireland just a short time before they were married. By age 11, John was left an orphan after the death of his parents. He was raised by Mrs. James Graham, an aunt, with whom he lived until he began studies for the priesthood.
James went to school at St. Edward's and St. Michael's (Philadelphia). After graduation from high school entering St. Charles Seminary at Overbrook, he received his liberal arts and Philosophy training. It was during his years at Overbrook that he realized that his vocation was on the foreign missions. This attraction led him to apply to Maryknoll and he continued his studies at the Maryknoll major seminary. He was ordained on June 16, 1935.
Father McClarnon was assigned to the Kaying mission in South China. At that time the Vicariate was under the guidance of Bishop Francis X. Ford. "M shih tak faat p'ei hei" may be the way Fr. McClarnon's parishioners spoke of him – "one who does not know how to get angry." Whether by nature or discipline Father exercised a poise and reserve which the Chinese regarded as the acme of human relations.
The hardships of a foreigner's life in the Orient took their toll on Father McClarnon. Not long after beginning his work he became ill. He returned to the United States in June, 1937 to receive medical care. In August of that year he was confined to the Good Hope Hospital in Maryland. As time went on his condition did not improve. As a result it was necessary for him to remain there until his death on November 8, 1951.
The disappointment of being recalled from an active mission life is not hard to imagine. But Father McClarnon had a higher calling, one to a life of suffering. Father may have accomplished more for the people of China in a hospital in Baltimore than he could ever have done on the field afar.
The solemn funeral for Father James was held on November 12, 1951 and burial was at Maryknoll.