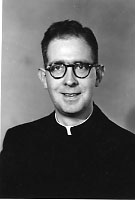 Father James P. McMahon, MM
Born: October 5, 1921
Ordained: June 11, 1955
Died: August 24, 1973
James Patrick McMahon was born on October 5, 1921 in Omaha, Nebraska. He went to public and parochial schools in St. Paul and Mahtomedi, Minnesota, spent a semester at the St. Paul College of Law and two years at the University of Minnesota. Until he joined Maryknoll in 1948 he was in insurance and other work, and from December, 1942 to April, 1946 he served in the U.S. Army where he was a First Lieutenant in an Engineer Aviation Battalion and saw combat in Kwajalein, Guam and Okinawa.
He joined Maryknoll in June of 1948, received A.B. and M.R.E. degrees from Maryknoll Seminary and was ordained on June 11, 1955. He was assigned immediately to the Philippines and worked first in the Diocese of Lipa and in more recent years in Tagum Prelature, Lindanao. He held important posts in Tagum, as Secretary to Bishop Joseph O'Regan and Chancellor of the Prelature. He did superb work as Recording Secretary at the Pre-Chapter meetings in Hong Kong in 1972. Reports over the years mention him as always energetic, hard-working and efficient. "He is one who is sought out when they want a job done that requires ability and push." Withal, he had a pleasant manner and a good sense of humor.
Father McMahon died at about 5:00 a.m. on August 24, near his parish of Mabini. he funeral was held on August 28, at Mabini Parish, followed by burial there.