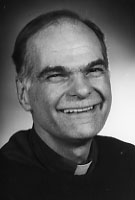 Father James P. Nieckarz, MM
Born: June 29, 1939
Ordained: June 11, 1966
Died: November 4, 2013
Father James Nieckarz died at Phelps Memorial Hospital, Sleepy Hollow, New York on November 4, 2013. He was 74 years old and a Maryknoll priest for 47 years.
James Paul Nieckarz, the only child of John and Irene Pawlak Nieckarz, was born on June 29, 1939 in Staten Island, New York. He attended Blessed Sacrament grammar school and Augustinian Academy in Staten Island. After graduation, he joined Maryknoll on September 5, 1957, attending Maryknoll College, Glen Ellyn, Illinois, and graduating with a Bachelor of Arts degree in Philosophy in 1961. At Maryknoll Seminary, New York, he received a Bachelor of Divinity degree and a Master of Arts degree and was ordained a priest at Maryknoll Seminary, New York on June 11, 1966.
After ordination, Father Nieckarz was assigned to the Maryknoll Mission Region in Taiwan. In Taiwan he became involved with some Protestant missionaries working on the issue of helping political prisoners and their families. He served there until October 1971 when he was assigned to the United States Region.
On his return, Father Nieckarz studied for two years at Columbia University in New York City and received a Master of International Affairs degree. On May 23, 1974 Father Nieckarz was assigned to work for a four-year period as Assistant to the Pontifical Representative of the Holy Father to the United Nations, Msgr. Giovanni Cheli, in New York City. He was an advisor on economic and social issues.
In 1982 Father Nieckarz was assigned to the Office of Justice and Peace and served there for three years. In 1985 he began working with the International Fourth World Movement in New York City as Vice President of the U.S. Branch. He also continued some work with Taiwan human rights organizations. During this time, Father also was involved in visiting people with AIDS in New York hospitals and at their homes. He conducted many funerals and memorials for them and also facilitated a Bereavement Group for Survivors. He also was involved with two different prayer groups, as well as serving on the Institutional Review Board which is responsible for many protocols monitoring experimental drugs for people with AIDS.
On the occasion of his 25th Jubilee, Father said that a highlight of the past fifteen years was his trip to the Virgin's Shrine in Medjugorje, Yugoslavia, in October 1989 and being baptized in the Holy Spirit on December 1, 1990.
In June 1992, Father Nieckarz was assigned as Assistant Administrator of St. Teresa's Residence, and reappointed in June 1995. He was very much admired for promoting the well being and health of the members at St. Teresa's. During his six years there, he created a Prayer Apostolate and also was very active in promoting the life of St. Maria Goretti. Father Nieckarz was elected as official delegate for the Special Society Unit (SSU) to the Tenth General Chapter held in 1996. He was also a member of the Chapter Preparation Committee. During this Chapter, Father was instrumental in the dissolution of the SSU and establishment of the Retirement Community.
After finishing his work at St. Teresa's, Father Nieckarz worked at Transfiguration parish in New York City, helping in the parish and working with the Training of Chinese Seminary Teachers and Formators project. In September 2003, he left Transfiguration and moved to Staten Island to care for family members. During this time, he assisted with St. Adalbert's and St. Anthony of Padua's parishes. He was also Assistant Chaplain at the St. Elizabeth Ann's Nursing Home in Staten Island. Father Nieckarz returned to Maryknoll, New York in 2011 and moved to Mission St. Teresa's. In August 2012 he was assigned to the Retirement Community.
Wake services were held at 4:30 p.m. on November 11, 2013 at St. Teresa's, and at 7:30 p.m. in Queen of Apostles Chapel at Maryknoll Center where Father Philip Erbland officiated and Father David Pfeiffer read the biography. Mass of Christian Burial was concelebrated in Queen of Apostles Chapel on November 12, 2013 at 11:00 a.m. Father John P. Martin was Principal Celebrant and homilist. Burial followed in Maryknoll Society Cemetery.