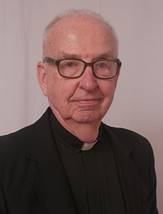 Father James P. Noonan, MM
Born: August 1, 1934
Ordained: January 30, 1960
Died: May 7, 2018
Father James P. Noonan died on May 7, 2018 at Hudson Valley Hospital, Cortlandt Manor, New York.  He was 83 years old and a priest for 58 years.
James Purcell Noonan was born in Shelburne, VT on August 1, 1934, one of two sons of Robert and Catharine Collins Noonan. He attended St. John's Seminary College in Little Rock, AR, then entered St. John's Seminary in Brighton, MA and was ordained for the Diocese of Burlington, VT on January 30, 1960.  After a one-year-assignment to St. John the Evangelist in Northfield, VT, he entered the Maryknoll Novitiate on August 28, 1961.  Father Noonan took his Perpetual Oath to Maryknoll on June 30, 1965 at the Center House in Davao City, Philippines.
Father Noonan served in the Philippines and learned the Cebuano language at the Maryknoll Language School in Davao.  His first assignment was as an associate pastor at St. James the Apostle Church in Cateel, Davao Oriental, and then as pastor at St. James the Apostle Church in Campostella, Davao del Norte.  He also directed the Cursillo movement for the Diocese of Tagum, Davao del Norte.  Father Noonan became the Regional Superior in the Philippines in July 1972 for a term of three years and was re-elected for a second term of three years in July 1975.  After that time, he was elected First Delegate to the Seventh General Chapter held in October 1978 and at that Chapter was elected Superior General of the Maryknoll Society.
Father Noonan served six years of service on the General Council, and when he finished his term, was assigned to Udon Thani, Thailand at St. James the Apostle Parish in Ban Thin.  At the same time, he was director at the Agricultural Training Center in Nong Khai.  In September 1988, he was elected as Unit Coordinator for Thailand and two years later participated at the Ninth General Chapter as well as the Tenth General Chapter in 1996.
In 1991 he was assigned to Cambodia.  His first ministry there was to begin a Center for skill training for land mine victims.  In 1995 he was asked by the Maryknoll Unit in Cambodia to begin a program for people living with and impacted by AIDS.  This program was named "Seedling of Hope".  The yearly budget for this ministry was well over one million dollars, meaning a great deal of Father Noonan's time was spent fundraising for the programs within this ministry.
Effective November 1, 2009 Father Noonan was appointed to the Maryknoll Office for Global Concerns for a three-year term.  Father Noonan said, "These years of mission with Maryknoll have been a great source of happiness and have provided many new experiences.  To have the opportunity of starting a new mission response at the Maryknoll Office for Global Concerns in Washington, DC is a great joy and privilege."
Father Noonan was assigned to the Africa Region in 2012 and worked in South Sudan.  In 2014 he was assigned to the U.S. Region and worked with the Maryknoll Office for Global Concerns and representation to ECOSOC (Economic and Social Council) at the United Nations.  Father Noonan was appointed to the Pastoral Visitors Team in 2016.
A Rosary and wake service was held at 3:30 p.m. on June 4, 2018 at Mission St. Teresa's.  The Rite of Reception took place at the Maryknoll Society Center at 9:00 a.m. June 5, 2018.  Father Noonan's family received condolences and prayers until 10:15 a.m. in the Lady Chapel. The biography was read by Father Michael Duggan.  Mass of Christian Burial was concelebrated in Queen of Apostles Chapel at 10:30 a.m.  Father Ray Finch was Principal Celebrant and homilist.  According to Father Noonan's wishes, he was cremated and was laid to rest in the Columbarium at Maryknoll, New York.