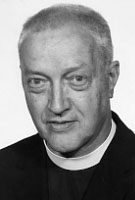 Father J. Ryan Hughes, MM
Born: September 7, 1898
Ordained: March 7, 1925
Died: April 26, 1994
Father James Ryan Hughes died at St. Teresa's Residence, Maryknoll, New York, at 7:00 p.m. Tuesday, April 26, 1994. He was 95 years old and a priest for 69 years. In Maryknoll he was always known as "J. Ryan Hughes."
James Ryan Hughes was born in Philadelphia, Pennsylvania, on September 7, 1898, son of James D. Hughes and Ellen Ashman Cochrane. Most Rev. John Hughes, Archbishop of New York, was his granduncle. He had a long and fabulous life, truly one of the great Maryknoll missioners. His grammar schooling was at St. Aloysius Academy run by the Sisters of the Immaculate Heart of Mary in Philadelphia. His father died at an early age and his mother married John A. Gillis in May 1911. They moved to Whycocomagh, Cape Breton, Nova Scotia, where Mr. Gillis was a teacher on the MicMac Indian Reservation. He graduated from St. Francis Xavier High School in Antigonish, Nova Scotia, in 1914. He had a short stint of three months in 1918 in the U.S. Army in Washington, D.C. During his junior year at St. Francis Xavier College, Antigonish, in 1919 he signed up for three months as a mess boy on the freighter "Lake Charlotteville" bound for the Baltic ports and Murmansk, Russia. Visiting the many ports along the way opened his mind to the reality of the international world which intrigued him for the rest of his life and turned him toward the priesthood.
James Ryan Hughes graduated from St. Francis Xavier College with a Bachelor of Arts degree in 1920. He entered St. Charles Borromeo Seminary, Overbrook, Pennsylvania, September of 1920 to study for the Archdiocese of Philadelphia. After one year there he was sent to the North American College in Rome, Italy, and received his Doctor of Sacred Theology degree from the Urbano Collegio de Propaganda Fide, and was ordained a priest for the Archdiocese of Philadelphia on March 7, 1925. During his years in Rome he traveled extensively throughout Europe. It was in Rome at the Vatican Mission Institute in 1924 that he first met Maryknoll in the person of Father John J. Considine, M.M. After many talks with him he determined to join the Catholic Foreign Mission Society of America.
As a priest he was a man of decisive judgement, had a commanding physical presence, a resounding voice, an extensive knowledge of the English language and a widespread knowledge of many different subjects. After ordination, Father Hughes became the professor of Canon Law and Sacred Scripture at St. Charles Borromeo Seminary for eight years. He persistently made requests to the Cardinal Archbishop for permission to join Maryknoll Society. Finally in 1933 his request was granted and he entered Maryknoll on June 18, 1933. Within Maryknoll, he was always known as Father J. Ryan Hughes. Due to the scarcity of professors at Maryknoll he was assigned to teach at Maryknoll Seminary in New York for two years. This was followed by an assignment to Maryknoll Apostolic College (Venard), at Clarks Summit, Pennsylvania, during 1933-1939 to teach philosophy, psychology, and intermediate French. He gained a widespread reputation as a preacher and conductor of retreats and missions in various dioceses around the country.
At age 41 his heart's desire was realized and Father Hughes was assigned to Maryknoll's mission in Kyoto, Japan, on May 5, 1939. The language was very difficult for him, but he did the usual tasks of a missioner as well as he could. He continued the apostolate of the spoken word for which he had become well-known in the United States, giving retreats and conferences for English-speaking groups, especially priests and religious in Japan, Korea and Manchuria. His varied background and wide experience made him a very popular preacher for all occasions.
In January of 1941, Father Hughes went to Honolulu for the purpose of becoming a Chaplain in the U.S. Navy, but he was over age and not accepted. His stay in Honolulu was to have been a short one, but it lasted five years. He spent the entire war years in Hawaii and served as Chancellor of the new Diocese of Honolulu, editor of the Catholic Herald diocesan newspaper, teacher at St. Stephen Junior Seminary and at St. Francis Hospital School of Nursing, and the first Superintendent of Catholic Schools in the diocese. He also served as an unofficial chaplain at Navy and Army installations throughout the Islands. On one occasion just before the U.S. invasion of the Philippines, assisted by several military chaplains, he conducted a week-long retreat at Schofield Barracks Bowl attended by over 8,000 officers and enlisted men and women. At St. Teresa's Residence on June 9, 1992, he received a Certificate of Appreciation from the Military Archdiocese, for his many years of service as Contract Chaplain and Retreat Master for the military, especially in Asia and Europe.
He was elected to serve as the Delegate for the Hawaii-Philippine group of Maryknollers in the Fourth General Chapter held at Maryknoll, New York, in 1946. After the Chapter he was again drafted to teach dogmatic theology at Maryknoll Seminary in New York. His many students over the next eleven years (1946-1957) have fond memories of his lively classes. These same years also found Father Hughes engaging in his usual pastoral work of preaching in Italian at Transfiguration Parish in New York City, and conducting retreats and missions as requested in many places. On May 4, 1957, his desire to return to Japan was finally fulfilled and he began another tour in that most difficult mission. There for seven years, he carried on his apostolate of conducting retreats and conferences among the English-speaking groups. He was called upon to conduct retreats for Maryknollers in the Philippines, Taiwan, Hong Kong and Africa. He was a teacher of English at Notre Dame College in Kyoto in the 1960s, and served as acting Chancellor of the Tokyo Archdiocese for a short time in 1962. For health reasons he worked in the Philippines for about one year in 1964, and then returned again to Japan. Always active in spite of declining health, he was assigned to Collegio Maryknoll in Rome on July 9, 1969, where he became part of Maryknoll in Rome for ten years in a way he could never have imagined when he first thought of joining Maryknoll Society in 1924. He continued his apostolate of the spoken word in Italy and throughout western Europe.
On July 15, 1979 at age 81 he was enrolled in the Special Society Unit and moved into St. Teresa's Residence at Maryknoll, New York.
Wake services were offered in St. Teresa's Chapel and Our Lady Queen of Apostles' Chapel on Thursday, April 28. Concelebrated Mass of Christian Burial was offered in the Center Chapel at 11:30 a.m., Friday, April 29, with Rev. Edward J. Manning, as principal celebrant, and Rev. Joseph J. McGahren as homilist. Interment was in Maryknoll Center Cemetery.