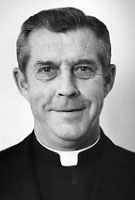 Father James R. Weckesser, MM
Born: June 7, 1928
Ordained: June 11, 1955
Died: March 21, 2009
Father James Weckesser died at Westchester Medical Center on March 21, 2009. He was 80 years old and a Maryknoll priest for 53 years.
James Robert Weckesser was born on June 7, 1928 in Rochester, New York, the son of Joseph L. and Mary Casey Weckesser. He was one of five children. He attended St. Augustines grade school and St. Andrews Seminary for high school and two years of college work before entering Maryknoll in September 1948. He received a B.A. in Philosophy in 1950, and a Masters in Religious Education in 1955, both from Maryknoll School of Theology, Maryknoll, New York. He was ordained a priest on June 11, 1955.
After ordination Father Weckesser was assigned to Chile, where he spent 23 years doing mission work in parishes of the Dioceses of Chillan, Talca and Santiago. In addition to his work in various parishes, he served as a Consultor to the Regional Superior from April 1969 until December 1974. He was also Research and Planning Coordinator for Maryknoll's work in Chile during that period.
In 1978 he was appointed Regional Superior of Chile. That same year he participated in the Societys Seventh General Chapter and was elected Assistant General.
After serving six years as Secretary General, Father Weckesser was reassigned to Latin America and to the Chile Region in 1984. After studies in Santiago and Sao Paulo, Brazil, he volunteered for work in the Pando Vicariate, Bolivia during 1986 and 1987. Upon returning to Chile, he headed up the Orientation Program and the Overseas Training Program of the Chile Region. He served as a member of the CEB-Formation Team of the Southern Zone of the Archdiocese of Santiago.
Since 1993 Father Weckesser had been living and working in the Parish of St. Joseph the Worker, in a neighborhood known as Jose Maria Caro in the Southern Zone of the Archdiocese of Santiago, Chile. He also helped out in neighboring parishes and continued his involvement with the Christian Community and Formation Team of the Southern Zone. In addition, he spent five months each year helping out in the Maryknoll Language Institute in Cochabamba, Bolivia, serving in the Research and Documentation Center. Throughout his mission career, Father Weckesser worked tirelessly on a life-long commitment to promote the formation of laity both for Church involvements and also for civil society. He was deeply committed to the Base Christian Community movement throughout all of Latin America especially in Chile and later in Bolivia.
On the occasion of his 50th Jubilee when asked to name the high point of his mission career, Father Weckesser chose the period from 1964 through 1973 when he worked in the Parish of St. Albert in Santiago, where he and other Maryknollers worked with groups of religious and lay leaders to build up the many Christian communities, giving them Christian formation and, with the participation of the communities, working to build up the Kingdom of God here on earth.
Wake services were held at 4:30 p.m. on March 24, 2009 at St. Teresa's, and at 7:30 p.m. in Queen of Apostles Chapel at Maryknoll Center where Father William Coy officiated and Father Eugene Toland read the biography. Mass of Christian Burial was concelebrated in Queen of Apostles Chapel on March 25, 2009 at 11:00 a.m. Father James Noonan was Principal Celebrant and Father Ernest Lukaschek was homilist. Burial followed in Maryknoll Society Cemetery with Father Paul Masson conducting the graveside service.