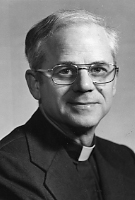 Father James R. Whitmore, MM
Born: May 14, 1926
Ordained: June 13, 1959
Died: March 19, 2013
Father James R. Whitmore died on March 19, 2013 at St. Teresa's Residence. He was 86 years old and a Maryknoll priest for 53 years.
James Richard Whitmore, one of three children of Don and Alice Hussey Whitmore, was born on May 14, 1926 in Kansas City, Missouri. He attended Merriam Grade School in Merriam, Kansas and graduated from Soldan High School in St. Louis, Missouri. Although baptized a Catholic as an infant, it was not until 1944 while serving in the United States Navy that he was confirmed and, as he expressed it, "really found my Faith." After being honorably discharged in 1946, he worked for a few years before enrolling at the School of Foreign Service at Georgetown University, Washington, D.C., where he earned a B.S. degree. Upon graduation in June, 1953, he entered Maryknoll and attended Maryknoll Seminary in Ossining, New York where he earned an MRE degree. Father Whitmore was ordained on June 13, 1959.
Father Whitmore was assigned to Japan and, after language studies, worked as Assistant Pastor in Iwamizawa and Date-cho Parishes in the Sapporo Diocese. In September 1969 he was assigned to the Development Department and worked in St. Louis, Missouri and Denver, Colorado. Father returned to Iwamizawa, Japan in July 1972 and in March 1973 was appointed Administrative Assistant for the Hokkaido area. In this capacity, he was Maryknolls representative to the Bishop.
Father Whitmore remained in Japan until 1975 when he returned to the United States for studies in Pastoral Counseling. He attended the Institute of Pastoral Studies at St. Paul's University in Ottawa, Canada. Upon completion of his studies in 1976 was appointed Director of the Overseas Training Program at Maryknoll, New York for one year. Father Whitmore returned to Tokyo, Japan and was supervisor of the House while being named Japan Area OTP Coordinator. He remained in Japan until he was assigned to the Formation Education Department and appointed Rector in 1979. A year later, he was assigned to direct the Pre-Acceptance Program for Maryknoll aspirants at Seton Hall University, South Orange, New Jersey.
In July 1985 Father Whitmore was assigned to the Japanese Mission in Los Angeles to work with Father Robert Reiley, M.M. He remained in Los Angeles for a year and then moved to St. Louis, Missouri, where he assisted in Development work in the area. He later moved to Seattle and again assisted in Development work there. Father was assigned to the Special Society Unit on May 15, 1991 and in September moved to the Maryknoll Residence in Los Altos, California. In February 2001 he was assigned to the Retirement Community and in March 2005 moved to St. Teresa's Residence, Maryknoll, New York.
Wake services were held at 4:30 p.m. on Monday, March 25, 2013 at St. Teresa's and at 7:30 p.m. in Queen of Apostles Chapel at Maryknoll Center where Brother Thomas A. Hickey officiated and Father Wayman P. Deasy read the biography. Mass of Christian Burial was concelebrated in Queen of Apostles Chapel on Tuesday, March 26, 2013 at 11:00 a.m. Father Michael A. Duggan was Principal Celebrant and homilist. Burial followed in Maryknoll Society Cemetery with Father Michael A. Duggan conducting the graveside service.