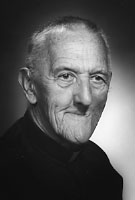 Father James S. Stefaniak, MM
Born: April 23, 1923
Ordained: June 10, 1950
Died: December 13, 2012
Father James S. Stefaniak died on December 13, 2012 at St. Teresa's residence.  He was 89 years old and a Maryknoll priest for 62 years.
James Stanislaus Stefaniak, one of nine children of Peter and Mary Schlaikowski Stefaniak, was born in St. Francis, Wisconsin, on April 23, 1923.  He attended St. Ignatius Parochial School in Milwaukee and graduated from West Allis High School, West Allis, Wisconsin in June 1940 after which he enrolled in St. Francis Minor and Major Seminaries in Milwaukee.  He entered Maryknoll Major Seminary, New York on July 31, 1944, earned his Bachelor of Arts degree in Philosophy and was ordained a Maryknoll priest on June 10, 1950.
After ordination Father Stefaniak was assigned to Maryknoll's Mission in Peru, where he spent his entire missionary career.  Upon completion of language studies, he was attached to San Ambrosio High School in Puno as a teacher and later as director of the school.  In 1955 he was assigned to the Parish of Santiago in Huancane, where he worked with Aymara parishioners, especially with the indigenous catechists.  It was here that he first became aware of the great potential of the Christian lay people and their dedication to service of the Church.  In 1962 he was a member of the Juli Mission Band to conduct parochial missions throughout the Prelature.  In 1963 Father Stefaniak was loaned to the Latin America Bureau, Washington, D.C. for three years to serve as director of the training courses for Sisters, Brothers, Priests and Lay Papal Volunteers for Latin America at the Catholic University, Ponce, Puerto Rico.  The courses were oriented toward the apostolate of Spanish-speaking peoples in North, Central and South America.  This experience heightened his interest and confidence in the capabilities of the Catholic lay person in the mission of the Church.
He returned to Puno, Peru in July, 1966 and was appointed pastor of the parish in Chucuito and later again in Huancane and Desaguadero. In 1979 he and Father Charles Girnius, MM founded a hostel for homeless in Arequipa and worked there until 1985. Here also he was impressed with the faith and talents of even the poorest and down-and-out people and their ability to maintain their faith in God despite the fact that they owned absolutely nothing.  During his time in Peru, Father Stefaniak was appointed several times to positions on the Regional Council, most recently in October, 1986 as Assistant Regional Superior and re-appointed in October, 1989.  Father Stefaniak was also elected as the Peru Region's Delegate to the 8th General Chapter in 1984.  After the Chapter he returned to Peru and began work in Tacna in the Parishes of Jesucristo Resucitado and Sagrada Familia.
In 1990 the Bishop of Tacna, Oscar Alzamora, asked Father Stefaniak and Father Patrick Donovan, MM to begin a program for the formation of lay pastoral agents.  He worked in this program until 2003.  The program was broadened to include the formation of candidates to the Permanent Diaconate in Tacna, as well as a course called "Lunes Biblicos" or "Bible Mondays", a course of study of the Bible.  Although technically retired, he continued his work especially in the formation program and Lunes Biblicos.
In October 2004 Father Stefaniak was assigned to the Retirement Community.  He resided first in the Maryknoll House in Chicago, then at the Maryknoll Los Altos Residence in California.  When he celebrated his 60th Jubilee in 2009, Father Stefaniak reflected, "Everyone baptized is a missioner.  As members of the Church we are commanded to go forth and make disciples of all nations.  Some do this at home, some in foreign lands, but we are all missioners."
Wake services were held at 4:30 p.m. on December 18, 2012 at St. Teresa's, and at 7:30 p.m. in Queen of Apostles Chapel at Maryknoll Center where Father Philip Erbland officiated and Father Ernest Lukaschek read the biography.  Mass of Christian Burial was concelebrated in Queen of Apostles Chapel on December 19, 2012 at 11:00 a.m.  Father James Madden was Principal Celebrant and homilist.  Burial followed in Maryknoll Society Cemetery with Father Paul Masson conducting the graveside service.
Each Maryknoll priest is requested to offer Mass for the repose of the soul of Father Stefaniak; all Maryknollers are requested to remember him in their private and public prayers.