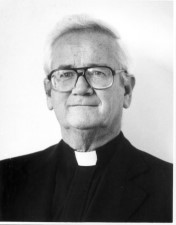 Father James T. Ferry
Born: June 7, 1925
Ordained: June 9, 1956
Died: May 28, 2021
Father James T. Ferry, M.M. died on May 28, 2021 in Manila. He was 95 years old and a Maryknoll priest for 64 years.
James Thomas Ferry, one of six children, was born in New Rochelle, New York on June 7, 1925, the son of Harvey and Irene Hannon Ferry. He attended Holy Family School and graduated from New Rochelle High School in 1943. After graduation he enlisted in the United States Navy, and in 1944 was sent overseas, where he served as Hospital Corpsman in the 1st Marine Aircraft Wing in the South Pacific and in the Liberation of the Philippines. Upon his honorable discharge from the Navy as a Pharmacist Mate, Third Class, he entered Maryknoll Apostolic College, Clarks Summit, Pennsylvania in June 1946. He received his B.A. degree in Philosophy from Maryknoll College, Lakewood, New Jersey, in 1951 and his M.R.E. in Religious Education from Maryknoll School of Theology, Maryknoll, New York in 1956. He was ordained at Maryknoll, New York on June 9, 1956.
After ordination, Father Ferry was assigned to the Philippines. His first assignment was to Laguna, where he studied Tagalog and was assistant pastor in Paete parish. In 1958 he was with the first group assigned to the northern part of Davao province. He took a short course in Cebuano after which he was assistant pastor to Father Joseph Regan, who was ordained Bishop of Tagum in 1962. The following year Father Ferry was named Pastor at Saint Vincent Ferrer Parish in Lupon. During his time in Lupon he founded St. Patrick's High School, and assisted in conducting Cursillos. In August 1964, he was assigned as pastor of the parish in Baganga.
From June 1970 to June 1973 Father Ferry served in the Development Department, working for two years in the San Francisco, California area and then in Nutley, New Jersey.
In July 1973 Father Ferry returned to the Philippines and was assigned as parish priest of San Isidro in Davao Oriental. A year later he started a project for obtaining artificial limbs for people who needed them. Father Ferry served as Assistant Regional Superior of the Philippines from April 1978 to September 1980, and served two terms as Regional Superior of the Philippines, October 1980 to September 1986. During this time, he also taught Pastoral Liturgy at the Regional Major Seminary in Davao City. After finishing his terms, Father was sent to Manila where he continued to teach Liturgy and Sacraments until 2013. In 2002 Father Ferry was given the Papal Award Pro Ecclesia et Pontifice by the late Jaime L. Cardinal Sin.
Father Ferry served as the Vicar for Religious Men and Women in the Archdiocese of Manila, and assisted at Christ the King Parish and Sto. Niño de Paz Chapel. These ministries continued under Archbishop Luis Antonio G. Cardinal Tagle. Father Ferry maintained these same pastoral involvements until 2021.
Father Ferry was appointed to Senior Missioner Status in January 2018. He remained a member of the Asia region and continued his work in the Philippines. June 2021 would have marked his sixty-fifth anniversary as a Maryknoll priest.
Father Ferry is survived by his nieces, Barbara and Katherine, and his nephews, Greg, Lee and Bill Ferry.
A Funeral Mass was held in Manila, Monday, May 31, 2021 at the Religious of the Virgin Mary Sisters Motherhouse. Father Ferry was buried in the mausoleum of the Religious of the Virgin Mary at Loyola Memorial Park, Marikina, Manila, the Philippines.
A Memorial Mass was held at Maryknoll Center on June 15, 2021. Father Clyde Phillips was the Celebrant and Father Jeremiah Burr was the homilist. Father Francis Felter read the biography and Father Alfonso Kim read the Oath.