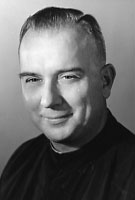 Father James T. Manning, MM
Born: May 3, 1921
Ordained: June 12, 1948
Died: May 2, 2008
Father James T. Manning died at St. Teresa's Residence, Maryknoll, New York, on May 2, 2008, one day short of his 87th Birthday. He would have celebrated his 60th Anniversary of Ordination to the Priesthood in June 2008.
James Thomas Manning was born on May 3, 1921 in New Rochelle, New York, one of five children of John and Susan Clancy Manning. He attended Blessed Sacrament grammar school and St. Gabriel's High School, both in New Rochelle, and credited his vocation to a devout family and to the priests he knew. He also credited the Ursuline Sisters from the College of New Rochelle who had him perform in Maryknoll's play "A Modern Martyr" which started his path toward the missionary priesthood. The Sisters of Charity nourished that vocation. James entered Maryknoll Junior Seminary, Clarks Summit, Pennsylvania in September 1939 and was ordained at Maryknoll, New York on June 12, 1948. When he met Bishop John W. Comber, Rector of the Seminary in 1944, Father Manning knew that he was "Home" and was really going to be a missioner to China!
After ordination, Father Manning was assigned to Maryknoll's Honan Parish in Canton, China and served there until 1951 when he was told by his Superior to leave because of the Communist revolution. Father Manning, fluent in Cantonese and Mandarin, was next assigned to the Taiwan Region to work under Msgr. William F. Kupfer, newly appointed Prefect Apostolic of Taichung. He studied Taiwanese (Amoy dialect) on his own as no Language School existed at the time. In June 1951 he departed for Taiwan and became the Pastor of Tien Chung in Taichung and three years later went to Nan T'ou as Pastor (this was a new mission). In 1955 he returned to the United States on home-leave and studied Mandarin at Yale's Far Eastern Language Institute for a year. He returned to Taiwan as the Pastor of the San Min Road Church.
In 1963 Father Manning served as the second Assistant to the Regional Superior for one term and on May 1, 1968 was appointed Regional Superior of the Taiwan Region. After serving one term, he became Pastor of Khe Chiu Parish and was sent to Feng Yuan Catholic Church in Taichung where he remained for more than 30 years until his return to Maryknoll, New York in 2006. Father was assigned to the Retirement Community on July 1,2006 and took up residence at St. Teresa's in September 2007.
Wake services were held at 4:30 p.m. on May 8, 2008 at St. Teresa's and at 7:30 p.m. in Queen of Apostles Chapel at Maryknoll Center where Father Robert Lloyd officiated and Father Lawrence Lewis read the biography. Mass of Christian Burial was concelebrated in Queen of Apostles Chapel on May 9, 2008 at 11:00 a.m. Father John J. Moran was Principal Celebrant and homilist. Burial followed in Maryknoll Society Cemetery with Father John Sivalon conducting the graveside service.